NARDA AZARIA DALGLEISH – WHAT ABOUT THE INEFFABLE?
WHAT ABOUT THE INEFFABLE?
Narda Azaria Dalgleish
Thursday 17 August and Saturday 19 August 2017
Opening Hours: Thu 12-6pm and Sat 10am-4pm
Alchemy Film & Arts, 39-41a High Street, Hawick, TD9 9BU
---
What About the Ineffable? is an experimental moving image retrospective of Narda's selected works created between 2014-2017. In addition to the screening of the films there was a 'forest' installation of silk banners behind the curtain onto which 2 black and white films of 100 peoples portraits were screened.
'ZION WALKS WITH ME' – 00:03:57, April 2015
'On Being Yes-ed Upon' – 00:28:00, April 2015
'Poiesis Lovers' – 00:18:00, June 2015
'KEDEM' – 00:08:12, December 2015
'THE HOPE' – 01:06:00, September 2015
'TRILOGY – Why | Lift | Revolution' – 00:12:00, April 2016
Mouseion – 00:09:00, August 2017
NARDA AZARIA DALGLEISH
As an experimental moving image and installation artist, Narda draws on various personal and cultural sources to interface the visible world with the invisible realm of mysteries, using her poetry and her experimentations with layering narrations and evocative vocals.
Since she started in September 2014, making films and installations proved to be not only a means for an artistic end for her, but very much a journey of self discovery. She is increasingly astonished to note the extent of space her ancient ancestral roots are claiming in her work.
"Dating back to over 2500 years of ancestral exile in the Babylonian diaspora, the richness of the Semitic root languages – Hebrew and Arabic – the Biblical stories, the cultures – both spiritual and secular, all that, and being an 'exile' myself, so to speak, mirror back to me through my work a sense of identity I have not experienced before."
https://www.nardadalgleish.com

Photo: Jessie Growden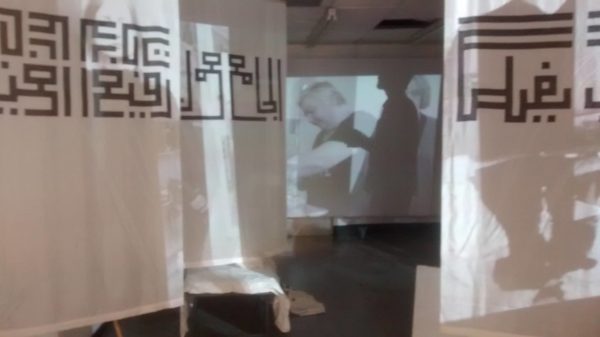 Photo: Narda Azaria Dalgleish