Alchemy Film & Arts' Exhibitions Programme brings groundbreaking experimental film installations to Hawick town centre. Read on for details of current and past exhibitions.
---
2018-19 Exhibitions Programme
---
Rhona Mühlebach | The River, The Horse and The Woman
30 March – 12 April 2019 | 53 High Street, Hawick
The River, the Horse and the Woman  is a multiscreen video installation, inspired by the deep-rooted history and connection between the Scottish Borders and horses, commissioned by Alchemy Film & Arts and filmed in Hawick with Borders-based riders. Full details here.
---
Tereza Stehlíková | From You to Me: 4 Generations of Women
26 January – 8 February 2019 | 53 High Street, Hawick
Tereza's collection of short experimental films, beginning in 2011, capture unique moments between her grandmother, her mother, her daughter and herself, reuniting between the Czech Republic and Britain over several years. Full details here.

---
Hanna Tuulikki | Sourcemouth : Liquidbody
7 December – 20 December 2018 | Peter Scott, Hawick
Three interlinked films, made by Hanna after she spent a month in India learning the ancient dance tradition, Kutiyattam. Through choreography, vocal composition and an innovative visual-score, Hanna embodies the river's flow. Full details here.

---
Onyeka Igwe | No Dance, No Palaver
6 September – 19 September 2018 | Unit Four, Hawick
Onyeka experiments with 20th century archive footage relating to Nigeria. Her research centres on The Aba Women's War: the first major challenge to British authority in West Africa and a historic example of feminist protest. Details here.

---
Scotland + Venice
---
Rachel Maclean | Spite Your Face
13 May – 26 November 2017 | Venice
Curated by Alchemy Film & Arts for the 57th International Art Exhibition, La Biennale di Venezia 2017. A darkly comic moral tale, depicting a post-truth dystopia where the world is turned on its head. Full details here.


---
2017 Exhibitions
---
Kerry Jones | Nobody Speak
1 December – 16 December 2017 | Hawick
Dismantled, manipulated audio, moving and still image in a sculptural installation. Useless, irresponsible and subconscious impulses appearing then disappearing into the black screen, creating and frustrating expectations. Details here.

---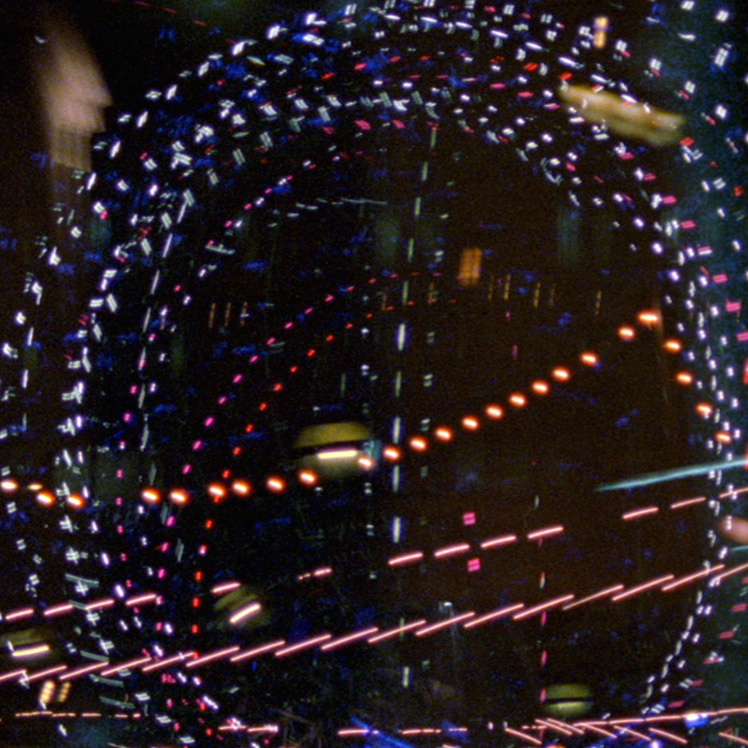 Christopher Steel | Welcome Back to Southside
20 December – 31 December 2017 | Hawick
The silent film, Welcome Back to Southside, shows a journey home from work superimposed 36 times onto one reel of 16mm film, then expanded digitally with a traveling loop. Full details here.


---
Bill Brown | Moving Pictures
27 October – 9 November 2017 | Hawick
Moving Pictures is a 3-channel slide projector installation in which an animated series of colorful geometrical forms is simultaneously projected and composited on a moving projection screen. Full details here.


---
Jessie Growden | Work in Progress
31 August and 2 September 2017 | Hawick
During the exhibition, Jessie created paintings informed by image and sound, in an attempt to present the landscape as a visual translation from life to moving image to an object – the painting. Full details here.


---
Nicoletta Stephanz | pf(hy)steria
24 and 26 August 2017 | Hawick
A selection of Nicoletta's recent film works, including a collaboration with Artist Joy Parker. Nicoletta's newest work, pf(hy)steria explores the impact of illness on one's life, paths to recovery and a sense of lost time. Full details here.

---
Narda Azaria Dalgleish | What About the Ineffable?
17 and 19 August 2017 | Hawick
What About the Ineffable? An experimental moving image retrospective of selected works created between 2014-2017. Narda also created a forest installation projecting 100 portraits. Full details here.


---
Jane Houston Green | Here, There, Everywhere
10 and 12 August 2017 | Hawick
Four films made in 2016 and a current work in progress, which the Artist is planning to develop into an amalgamated work called 'A Shadow Symphony'. Full details here.


---
Jason Moyes | Minus Nine
3 and 5 August 2017 | Hawick
Minus Nine explores a range of themes and maps the artist's journey as a filmmaker. Myths and legends are retold, Berwick is at war with St. Petersburg, the American dream is represented in found footage and red lights cast a spell. Full details here.


---
Beverley Cornwell| On Exhibit
27 and 29 July 2017 | Hawick
A compilation of short films by Beverley Cornwell that explores themes that emerge when looking at exhibited animals as objects and art, and investigates the way we share our spaces with animals in museums, zoos, and art galleries. Full details here.

---
Patrick Rafferty | Rhythm, Routine and Ritual
20 and 22 July 2017 | Hawick
The first part of an ongoing project, using still and moving image. Patrick examines how intertwined, yet partitioned our lives can be. Routine and Ritual explores causality and entropy, light and shadow, growth and decay. Full details here.

---
Frank Brown | A Retrospective
9 – 18 June 2017 | Hawick
Frank has been making films for almost 30 years. With ever-changing technology, he has captured countless significant local events, international travels, Borders culture and remarkable wildlife footage, all with style and humility. Details here.

---
Louise Harris | Auroculis
5 – 18 May 2017 | Hawick
Glasgow-based artist Louise Harris presents three pieces, for Expanded Audiovisual Format (EAF), investigating relationships between sonic form, through time, and visual form, and through space. Full details here.

---