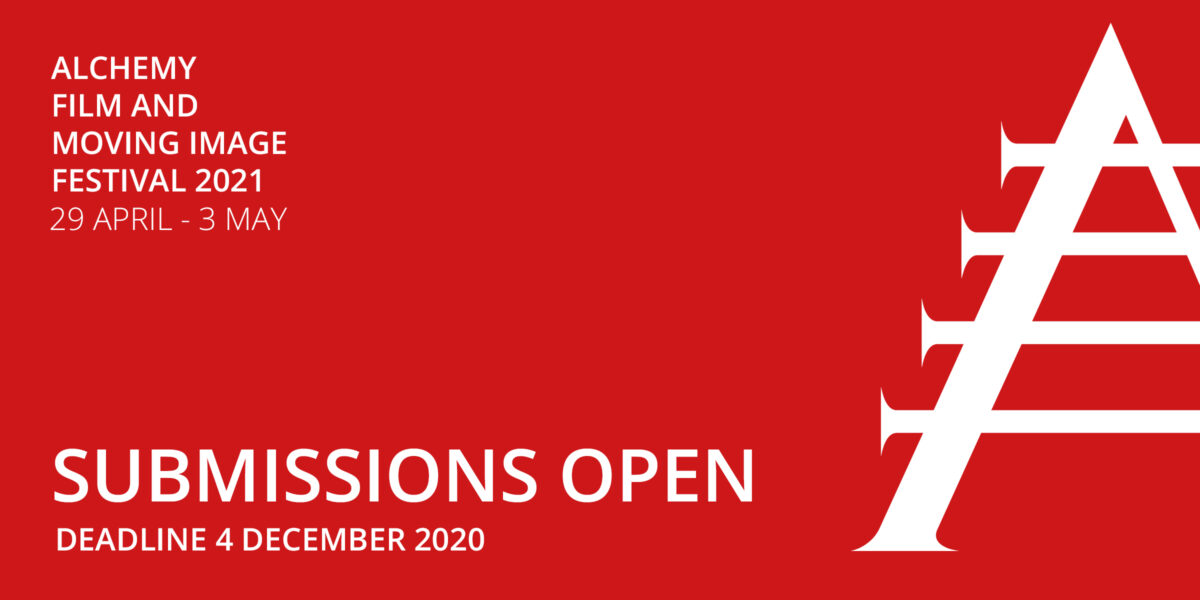 The eleventh edition of Alchemy Film and Moving Image Festival will take place 29 April – 3 May 2021.
Alchemy Film & Arts champions the highest quality in experimental film and artists' moving image. Our annual festival platforms short and feature-length work in the form of cinema screenings, multi-channel installations and live audiovisual performances.
An archive of our previous festivals can be found here. The programme for our 2020 edition can be found here.
---
DEADLINES AND ENTRY FEES
Earlybird Deadline/Entry Fee – 4 September 2020/£5
Regular Deadline/Entry Fee – 4 December 2020/£8
For our 2021 edition, Installations and Expanded Cinema proposals are free to submit.
HOW TO SUBMIT
All short and feature-length films intended to be shown in a cinema should be submitted here.
All installations and expanded cinema proposals should be submitted here.
FEE WAIVERS
We are happy to offer fee waivers to any artist in need of one. Get in touch here – no questions asked!
We also waive fees for anyone who lives in the Scottish Borders. Get in touch here if you are a Scottish Borders resident.
PREMIERE STATUS
We have no restrictions on the premiere status of a film, though prefer not to screen work that has already been widely shown in Scotland. We will also favour work completed after 1 January 2020.
SCREENING FEES
We have increased our screening fees for all work selected from submissions:
— £50 per short or medium-length film (less than 60 minutes)
— £100 per feature-length film (more than 60 minutes)
— Installations and performances are remunerated according to the specific needs and nature of the work
All payments will be made via PayPal after the Festival.
FORMATS AND CAPTIONS
We screen films from DCP and 16mm, and can accept most other common digital formats.
We are providing all films with captions/Subtitles for Deaf and Hard-of-Hearing (SDH) audiences, in the event captions/SDH are not already available.
SELECTION AND PRINT TRAFFIC
All notifications of selection will be sent out in early March 2021 if not before.
Final screening copies should be received by us within 4 weeks of notification.
In the case of digital files, we prefer to receive final screening copies electronically – i.e., via Dropbox, WeTranser or download link.