Since 2010, Alchemy Film & Arts has brought thousands of artists and film lovers from all over the world to Hawick, Scottish Borders. Visits to our Hawick-based events have grown from 778 in 2011 to 6,417 in 2019, in addition to 27,000 visits to Rachel Maclean's exhibition at the Venice Biennale, which Alchemy curated in 2017. Submissions to our flagship annual event, Alchemy Film and Moving Image Festival, have grown from 33 in 2010 to 1100 in 2019.
Such growth is both reflected and enabled by our three-year RFO (Regular Funded Organisation) status, awarded in 2018 by Creative Scotland. With additional funding from Esmée Fairbairn Foundation, Robertson Trust and Regional Screen Scotland, and in-kind support from LIVE Borders and event-specific sponsors, Alchemy continues to go from strength to strength in working to the benefit of Hawick and its communities.
---
ECONOMIC IMPACT
WORKING TO THE BENEFIT OF HAWICK AND ITS COMMUNITIES
Alchemy Film & Arts contributed a minimum spend of £346,105 to Hawick in 2018-19. In 2019, Alchemy Film and Moving Image Festival alone brought a minimum of £293,978 of economic benefit to Hawick. Alchemy's other annual activities can be estimated at a further £52,127 on materials, accommodation and hospitality. Alchemy's core funding brings money in from outside the Scottish Borders.
Below, we give further details of our income and expenditure and the economic contribution of our annual Film and Moving Image Festival to Hawick.
ALCHEMY FILM & ARTS
WHERE THE MONEY GOES: 2018-19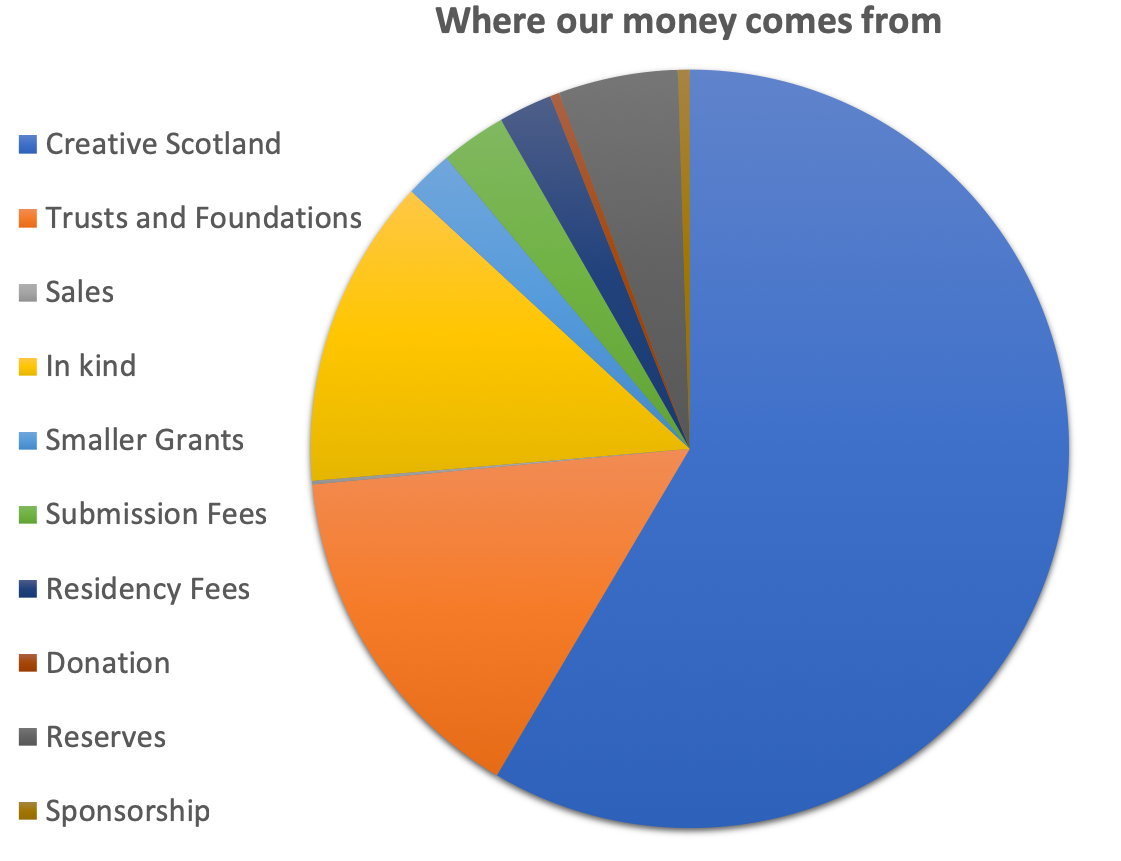 ALCHEMY FILM AND MOVING IMAGE FESTIVAL 2019
ECONOMIC IMPACT CALCULATION
Our 2019 visitor survey asked festival attendees to estimate how much they spent per day on food and drink, accommodation, shopping, tickets and other activities in Hawick.
The average spend per day, per person, was £81. Of this, £27 was spent on food and drink, £22 on accommodation, £15 on shopping, and £17 on other activities. Visitors attended for an average of 3 days, i.e. £243 per visitor.
Multiplying the total 'visitor days' by the average visitor spend per day, we get a total festival visitor spend of £259,848 over the festival period in the town.
To arrive at this overall economic impact estimate, we estimated the number of unique festival attendees as follows:
We recorded 6417 overall event visits, including free-admission installations and ticketed events, via in-venue headcounts.

From our survey we can reliably estimate that visitors attended an average of 6 events each.

The estimated number of unique visitors (overall event visits divided by average number of attended events per visitor) is 1069 individual people.

The overall number of 'Visitor Days' is estimated by multiplying 1069 (unique visits) by 3 (average number of days attended per visitor).

Alchemy Film and Moving Image Festival 2019 amounted to 3208 'Visitor Days' in Hawick

.
Alchemy itself spends a significant amount of money within the local economy, including £9,000 on local accommodation; £5,130 on materials and hospitality; plus staff and volunteers, estimated at a cash value of additional spending within Hawick of around £20,000 for the festival period.
We can say with confidence that Alchemy Film and Moving Image Festival alone brings a minimum of £293,978 of economic benefit to Hawick. A further £12,127 was spent on accommodation, hospitality and materials within the town in 2018-19 towards Alchemy's year-round activities, with an additional estimated £40,000 cash spending from staff, volunteers and artists. Alchemy Film & Arts brought a minimum spend of £346,105 to Hawick in 2018-19.