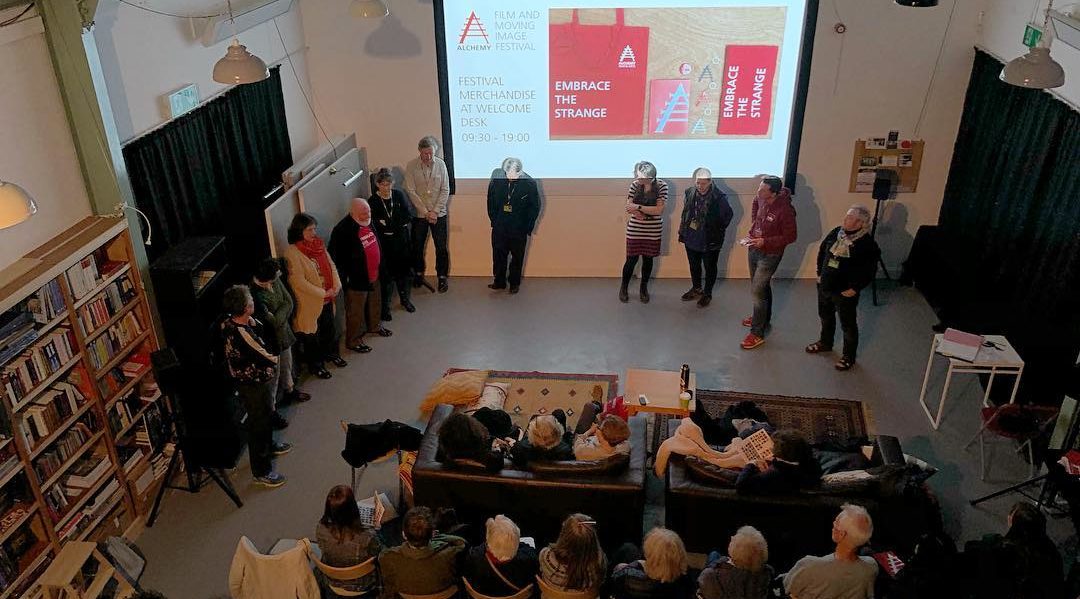 On the Move is a touring programme of experimental film from the Scottish Borders-based Moving Image Makers Collective.
As the first self-curated programme of films by MIMC, On the Move speaks to the notions of intervening – with assistance from the moving image – upon one's immediate environment. By turns tentative and assertive, these works find rhythm, music and movement in acquired objects, found phenomena and even silence; each, in its own way, argues the case for environment as a conditioning device: a way by which one begins to think about negotiating the world, and the basis for any aesthetic response to it.
On the Move received its world premiere in May 2019 at the ninth edition of Alchemy Film and Moving Image Festival. The Moving Image Makers Collective emerged from the Scottish Borders Community Filmmaking Initiative, a series of workshops run by Alchemy Film & Arts in 2014.
On the Move is produced in partnership with Alchemy Film & Arts. To host On the Move, or for more information, please contact Rachael Disbury, Production Director at Alchemy Film & Arts: rachael@alchemyfilmandarts.org.uk.
---
SCREENINGS
Upcoming
6 December 2019 – Filmhuis Cavia, Amsterdam
7 December 2019 – CCA, Glasgow
14 February 2020 – The Stove Network, Dumfries
Past
November 2019 – Pix Film Gallery, Toronto
October 2019 – Star and Shadow Cinema, Newcastle
August 2019 – Supernormal Festival, Braziers Park
June 2019 – Borders Book Festival, Melrose
May 2019 – Duns PlayFest, Duns
May 2019 – Alchemy Film and Moving Image Festival, Hawick
---
MORE INFORMATION
Runtime: 71'
Available formats: DCP, Quicktime ProRes or H264
Films included: Weeping Jews Dogs Negroes, Narda Azaria Dalgleish (2'52, 2019); Beneath, Jane Houston Green (3'28, 2019); We sewed them into the hems of our skirts and walked through the town to the sea where we threw them into the oncoming tide, Dorothy Alexander (6'33, 2018); Codename India-1967, Jason Moyes (2'57, 2018); 18 – 91, Rachael Disbury (2'24, 2019); Lines in the Sand, Jessie Growden (5'07, 2019); Substitute, Richard Ashrowan (6'50, 2018); Turn it Off, Kerry Jones (1'26, 2018); Kedem, Narda Azaria Dalgleish (8'12, 2015); Index,Richard Ashrowan (2'46, 2018); Dwam, Frank Brown (4'43, 2018); Glenlochy Ice, Douglas McBride (1'27, 2014); Perilous, Dorothy Alexander (1'47, 2018); Frames, Shapes and Symbols, Jason Moyes (4'53, 2018); Granny Duncan's Tape Collection, Jessie Growden (1'58, 2018); Blue Book, Kerry Jones (9', 2018), Autumn 17, Patrick Rafferty (1'40, 2017).
More information on Moving Image Makers Collective can be found here.
More information about On the Move can be found here.