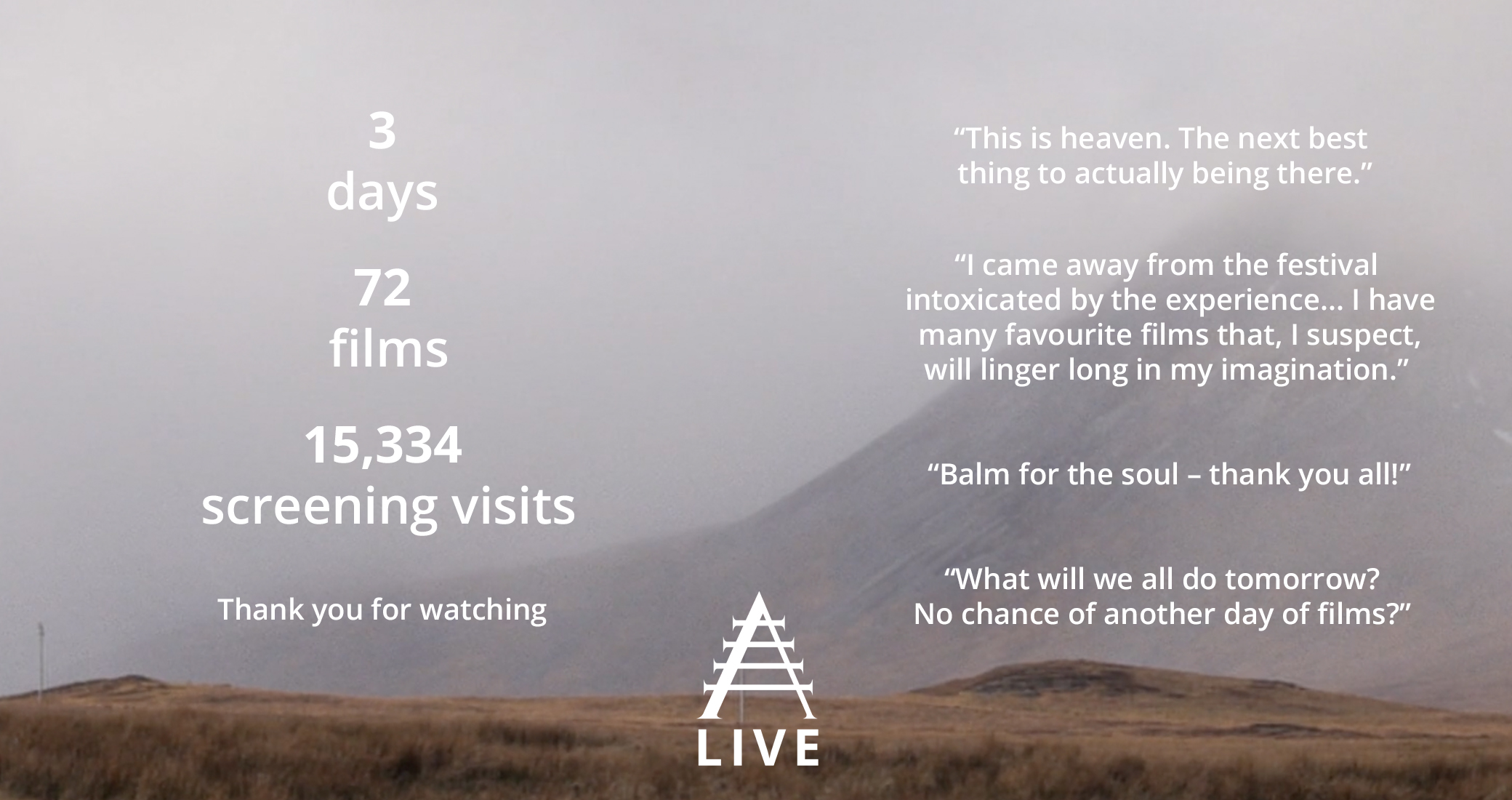 SUMMARY
Alchemy Live, the tenth edition of Alchemy Film and Moving Image Festival, took place 1 – 3 May 2020 as a free worldwide stream, having once again been curated in Hawick, Scotland's film town. The event presented 72 films across 15 programmes and attracted 15,334 screening visits.
This number of screening visits is unprecedented in the festival's history and is only surpassed in Alchemy Film & Arts' history as an organisation by the 27,030 visits recorded at our Scotland+Venice exhibition at the 2017 Venice Biennale. One question that naturally arises from such audience numbers, which far exceed the physical capacity of our cinemas and venues in Hawick, is whether new methods of digital exhibition set new precedents, expectations and metrics of success for the future.
From our perspective, these numbers vindicate our decision this year to 'go digital'. They also affirm for us the immediate- and long-term possibilities of digital programming. Regarding whether Alchemy's programme is now to be digital or in-person, we are less interested in the binary, 'either-or' conversation emerging from this moment than a need to be fluid and responsive: to continue considering all options, that is, in meeting the technical, conceptual and ethical needs of each event we deliver.
---
HOW TO: DELIVERING YOUR DIGITAL EVENT AS AN EVENT
In the interests of transparency and generosity, and to encourage shared learning, we have developed the following resources around the production of Alchemy Live. These resources are specific to our event, but can hopefully be adapted by other individuals or organisations.
Please find a PDF of our 'how to' guide here, and a webinar supported by Film Hub Scotland below, outlining the key practical and conceptual considerations of transitioning online while retaining the festival's identity as an event.
Our introduction to Alchemy Live, as well as the festival's full lineup, can be found here. The viewing recommendations we developed for 'how to watch' can be found here.
We encourage you to let us know if you find these resources useful towards an event you're involved in, or get in touch if you have further questions.