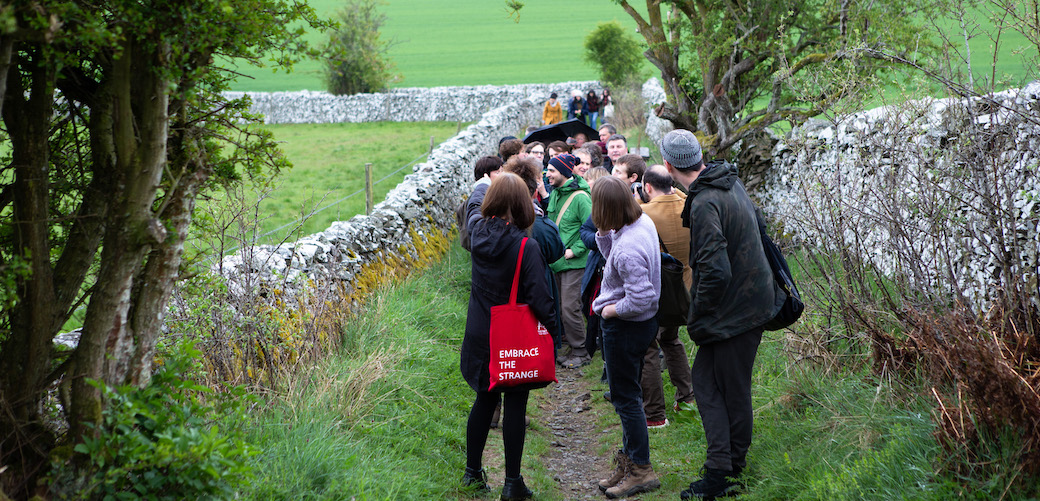 PROJECT COORDINATOR
Alchemy Film & Arts is recruiting a Project Coordinator for our upcoming project, The Teviot, The Flag and The Rich, Rich Soil, a community-engaged and artist-led project which runs from July 2021 to December 2022.
Working with the Alchemy team, the Project Coordinator will coordinate the project, working closely with artists in residence, developing and maintaining sustainable and meaningful community partnerships, producing a calendar of public events and activities, handling the project budget and ensuring project deliverables are met.
Exploring and activating ways in which we can creatively (re)consider the environment in relationship to community, sustainability and cultural identity, The Teviot, The Flag and the Rich, Rich Soil will focus on place-specific ideas of rhythm and motion, rivers and lands, borders and boundaries. The project will encompass  three six-month residences at SAU rates and a community-centred public programme focused on supporting development of self-expression, visual literacy, film practice and community-engaged outputs with key community partners across the Borders.
Working directly to need, the project will amplify, platform and complement Borders communities, addressing challenges specific to our place, supporting rebuilding and resilience through creative connectivity, while upholding commitments to inclusivity, environment, digital innovation and creative learning – with participation and collaborative practice at the core.
The Teviot, The Flag and The Rich, Rich Soil is part of Culture Collective – a pilot programme establishing a network of creative practitioners, organisations and communities across Scotland, working together to create a positive difference locally and nationally in response to COVID-19.
The Project Coordinator position is a unique opportunity for someone looking for a role in cultural management and community-engaged programming.
We would particularly welcome applicants with experience of living with a disability, lived experiences of LGBTQ+ issues, applicants who have experienced racism, individuals from a low-income socio-economic background, and individuals across a variety of age ranges.
Responsibilities
Maintaining timelines and managing project deliverables

Primary Alchemy contact for Culture Collective correspondence

Budget handling for the day-to-day project

Working with wider Alchemy team, including new trainees

Working with project artists on the production of their outputs

Liaising between artists and community groups, venues and resources

Establishing and maintaining partnership agreements with core community groups

Producing programme of public events, activities, screenings and discussions

Cultivating collective interest in the project, and maintaining local relevance

Developing and implementing an engagement strategy for the project

Attending regular Culture Collective network meetings

Monthly meetings with Alchemy Directors

Overseeing artists' and participants' travel and accommodation

Assisting with marketing, branding and communication of project

Assisting with research and development of project

Overseeing evaluation structures and methodologies

Project report writing and data collation

Maintaining administrative duties

Ensuring project is in line with Alchemy's commitment to inclusivity, access, and environment
Requirements
Evidenced experience of working/interest in social practice

Interest in curation and community-engaged programming

Interest in community regeneration through creative programming

Excellent communication skills

Ability to work with both community groups and artist networks

Project management and leadership experience

Understanding of budget handling

Research and evaluation skills

Time and task management skills
---
CONDITIONS
Fee: £25,000 per annum
Term: 18 months fixed term
Location: Alchemy Film & Arts, Hawick, Scottish Borders 
This contract for services is offered on a freelance, self-employed basis. The parties to this agreement will agree a schedule of deliverables on a month-by-month basis. The contractor will invoice monthly for agreed deliverables.
---
APPLICATION
Please send a CV and Cover Letter outlining your relevant experience and why you're interested in the role of Project Coordinator to:
recruitment@alchemyfilmandarts.org.uk.
Please specify in your email subject heading your name and the role you are applying for.
Deadline: Midnight, Tuesday 15 June
Interview: Wednesday 23 June via Zoom