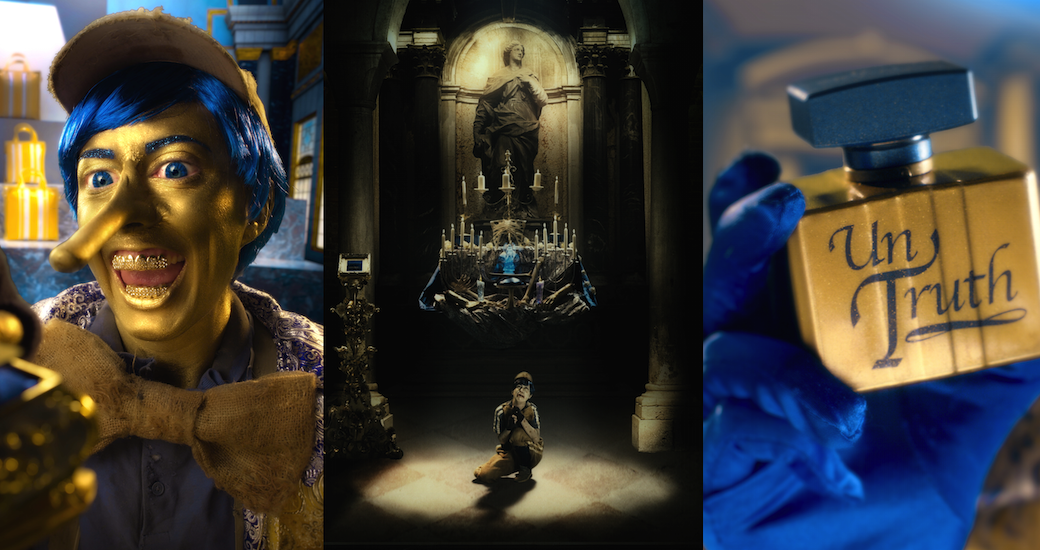 SPITE YOUR FACE
Rachel Maclean represented Scotland at the 57th International Art Exhibition, the Venice Biennale, which ran from 13 May to 26 November 2017 at Chiesa di Santa Caterina in Cannaregio, with major new film commission Spite Your Face.
Spite Your Face was commissioned by Alchemy Film & Arts for Scotland + Venice, curated by Richard Ashrowan (founder and former Creative Director of Alchemy Film & Arts), and produced by Ciara Barry and Rosie Crerar, in partnership with Talbot Rice Gallery and the University of Edinburgh.
Maclean's modern-day, dark Venetian fairytale was presented as a large-scale portrait projection at the altar of the deconsecrated church, Chiesa di Santa Caterina, Cannaregio. Following its world debut in Venice in 2017, Spite Your Face returned to Scotland's Talbot Rice Gallery in Edinburgh for its UK premiere, 24 February – 5 May 2018.
Described by the artist as "a darkly comic moral tale, depicting a post-truth dystopia where the world is turned on its head, leaving the characters untethered to any sense of right and wrong, truth and lies", Spite Your Face is a tale across two worlds – with a bright, glittering and ordered upper world, and a warped, dirty, impoverished lower world – where the lure of wealth, power and adoration entices a destitute young boy into the shimmering riches of the kingdom above. Referencing the Italian folk-tale The Adventures of Pinocchio, Spite Your Face offers a powerful critique of contemporary society, and the underlying fears and desires that characterise the zeitgeist we find ourselves in today.
Read Dr Richard Ashrowan's curatorial reflections here: Welcome to the New Baroque: Reflections on Spite Your Face
---
Rachel Maclean
A graduate of Edinburgh College of Art, Rachel Maclean works across film, print and photography to construct fantasy narratives that play with issues of identity, social values and politics. A mix of high art and popular culture, advanced technology and traditional theatre, humour and serious enquiry, her work is exacting and engaging. www.rachelmaclean.com