SUBMISSIONS CLOSED: ALCHEMY FILM AND MOVING IMAGE FESTIVAL 2020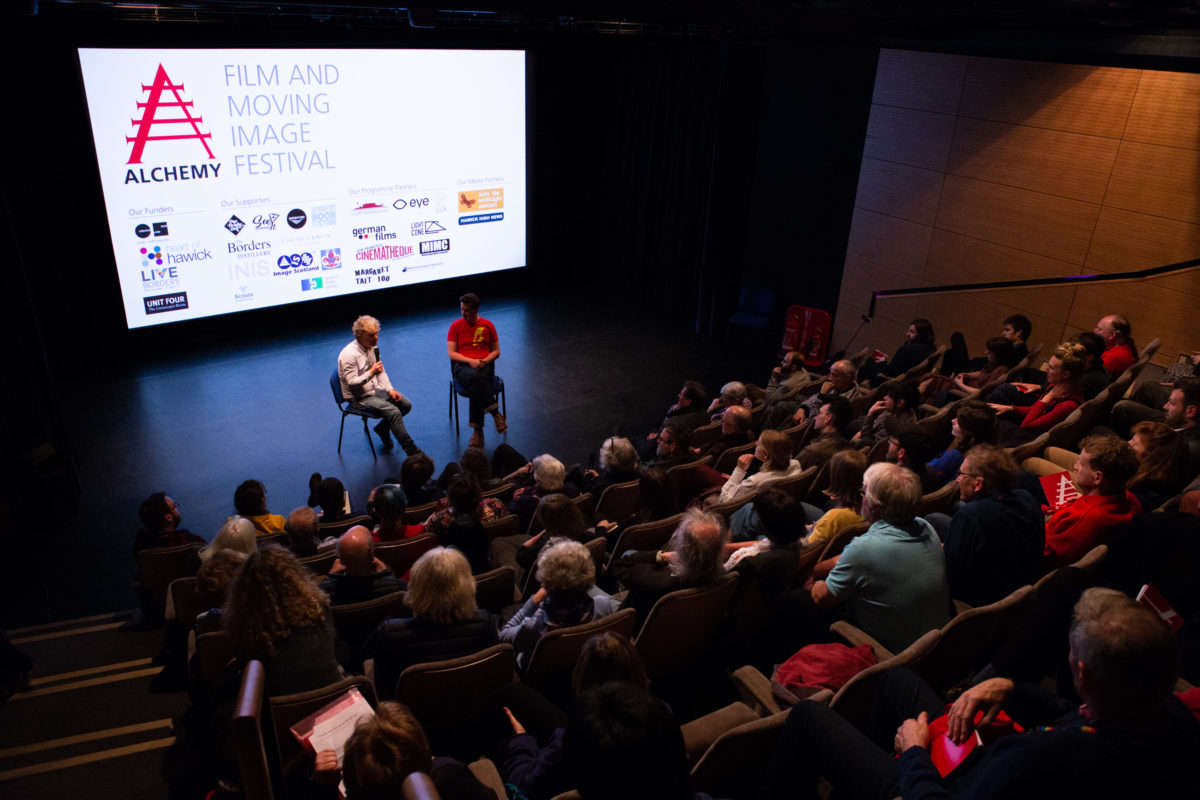 The tenth edition of Alchemy Film and Moving Image Festival will take place 30 April – 4 May 2020.
Read more about Alchemy Film and Moving Image Festival – Alchemy Film & Arts' flagship event – here.
There are two ways to submit a film to our festival: via the form at the bottom of this page, or via FilmFreeway. PLEASE NOTE THAT SUBMISSIONS HAVE NOW CLOSED.
In submitting a film via the form at the bottom of this page, you agree to the Terms of Entry listed below.
TERMS OF ENTRY
1. ELIGIBILITY
i. Once a film is submitted it may not be withdrawn.
ii. We welcome films of any subject matter by artists from any stage of their career.
iii. Although all submissions are considered, for the 2020 festival we favour films completed after 1 January 2019. We also favour films that have not been publicly shown before in Scotland.
2. SUBMISSIONS DEADLINE AND FORMAT
i. All submissions must be received by us before the end of 15 December 2019.
ii. Submissions must be received in the form of a password-protected or private online preview (ie. Vimeo or equivalent) alongside any password needed for access. The link and password must remain valid until 6 May 2020.
iii. We no longer accept submissions in the form of physical media or previews via file transfer sites such as Dropbox, WeTransfer, YouSendIt etc.
3. ENTRY FEES
i. All submissions made through the submissions form at the bottom of this page must be paid for, unless otherwise agreed to by a member of the festival programming team. If a submission is made without payment, it will not be reviewed. Entry fees are as follows:
Earlybird Fee (until 1 September 2019) = £5 per submission;
Regular Fee (from 1 September 2019) = £8 per submission.
ii. Alchemy Film & Arts is committed to making the festival submissions process as accessible and open to everyone as possible. If your personal circumstances prevent you from paying our submission fees, please contact us here regarding a fee waiver, fully explaining your circumstances.
4. SCREENING FEES AND INSTALLATION SUPPORT
i. We pay a token fee of £20 for each short or medium-length film (up to 60 minutes) selected for our screenings programme, and £40 per each feature-length film (more than 60 minutes) selected for our screenings programme. All payments will be made via PayPal after the festival.
ii. If your submission is with a distributor we will require you to negotiate a screening fee waiver with them if your work is accepted.
iii. In the case of moving-image installations and expanded cinema proposals, we provide operational support and technical assistance where possible, including a skilled on-site technician, AV equipment, curatorial guidance, and photographic documentation.
5. NOTIFICATIONS
You will be notified of selection via email in early March 2020, if not before.
6. PRINT TRAFFIC
i. Final screening copies of selected works should be received by us four weeks from the notification date.
ii. We regret that we cannot cover inbound shipping costs of final screening copies. We can cover the return cost of 16mm prints. Hard drives and USBs cannot be returned unless they are received with an appropriate, pre-paid addressed envelope.
iii. In the case of digital screening copies, we prefer to receive final screening copies electronically.
7. PERMISSIONS
i. All necessary permissions, releases and clearances will have been obtained by the submitting individual in advance for participation in the festival. The submitting individual bears full legal responsibility for ensuring permissions have been granted for the use of any and all copyrighted material in the submitted works for the purpose of the festival screening.
ii. Where the work has an existing distribution partner, sales agent or other third party with a legal or financial interest in the work, the submitting individual will have gained permission for inclusion in this festival on the basis of these terms and conditions prior to submission.
iii. The person submitting the form must possess the right to accept these terms and conditions.
iv. The information you submit will not be shared with any third party beyond the immediate staff and selection panel of Alchemy Film and Moving Image Festival. We will never share any of your data with anyone else.
v. We may add your email address to our mailing list, and mail you details about the forthcoming festival, our events, residencies, future Alchemy calls for entries and other relevant opportunities from time to time. We will not share your information with anyone other than Alchemy Film & Arts, and you can unsubscribe at any time. You can view our full privacy policy here.
SUBMISSIONS ARE NOW CLOSED.