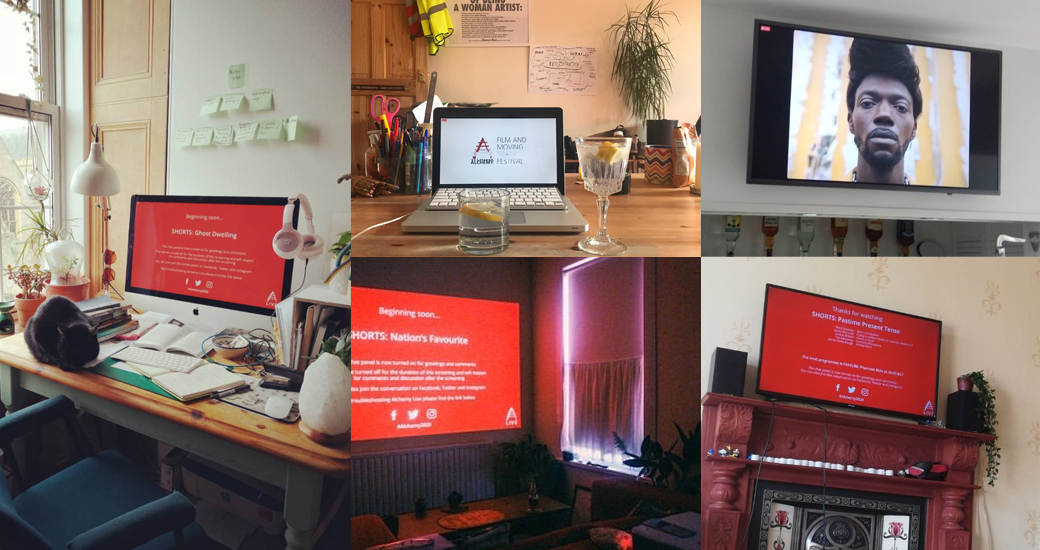 ALCHEMY LIVE: 1 – 3 MAY 2020
WELCOME · FESTIVAL PROGRAMME
Alchemy Live was, to begin with, two things. It was the tenth edition of Alchemy Film and Moving Image Festival, the flagship event of Alchemy Film & Arts. And it was the first exclusively digital iteration of said festival: a one-off live stream taking place across three days and bringing the best in international experimental film – curated in Hawick, Scotland's film town – to the comfort of homes the world over. For free.
Alchemy Live presented 15 film programmes, including ten curated shorts screenings, three new 'spotlight' slots, and two features. There was also a mixtape. Each of the programmes screened once, viewable in real time on this very webpage – as in the cinema, or like a riveting, end-of-days news bulletin on an old-fashioned analogue telly.
At Alchemy, we pride ourselves on hospitality, the warmth we extend every year to visiting guests. In digital form, this meant taking the many conversations we enjoy each festival – in the Heart of Hawick cinema, at the breakfast table in a guesthouse, over drinks in a beloved cash-only local – to the online spaces we know best: Facebook, Twitter and Instagram. We invited discussion from those who have formed lasting attachments to Hawick, those who long to return here, and all the far-flung enthusiasts who've never been able to visit. The friends we've made, the friends we will make. Supplementary materials – liner notes, artist Q&As – are available at the individual programme pages linked to further down.
Given the inescapable context of the COVID-19 pandemic, a cursory glance at the programme titles of Alchemy Live might suggest they were thought up yesterday: That Was The Week That Was… I Can't Go On, I'll Go On… Pastime Present Tense… All Happy Families… Still Processing… Ghost Dwelling…
It had been – it's true – a turbulent few weeks. Unravelling work done, reviewing expectations, planning contingencies. In proceeding with Alchemy Live, to celebrate the many great films that came to us through our open call for submissions and to honour the hard work of our Programming Team in selecting them, we identified three needs.
An online festival would need to retain quality: artistic, curatorial, the hard graft put in so far. It would need to be meaningful: for viewers, the wider community, us. And it would need to be deliverable: no add-ons, no sudden implementation of new ideas, an ability to merely and literally press play in the event one of us should fall sick in the bunker.
Act as if nothing has changed, proceed as if everything has.
Of the 72 films in the Alchemy Live line-up, several would in ordinary circumstances be strictly analogue in projection. We thank the artists responsible for such films for their support and positivity in permitting us to include their work in the digital iteration of our festival – and indeed extend our warmest appreciation to all the artists here who entrusted us with streaming their work in such unprecedented times.
Deep thanks are also due to those artists, acknowledged below, selected to be part of this year's installations and expanded cinema programmes – regrettably cancelled, along with all other in-person elements of the festival. We trust other opportunities to work with these artists will manifest in due course.
We were, dare we say, excited: by the collaborative opportunities that streaming presented (and presents) for Alchemy and other organisations like ours, by the new infrastructures and modes of discovery that can also emerge from this period of disruption, and by the paradigm shifts and forward-thinking conversations that might now occur within and across the arts and film festival landscape as a result.
As known embracers of the strange, we welcomed and welcome all these developments – from the comfort, yes, of our homes.
Rachael Disbury and Michael Pattison
Alchemy Film & Arts
---
FESTIVAL TEAM
Production Director Rachael Disbury · Creative Director Michael Pattison · Installations Coordinator Walt Holland · Production Associate Lisa Cowan · Communications Assistant Alix Rothnie · Print Traffic Coordinator Helen MacKenzie · Film Town Coordinator Tom Swift · Programming Team Jonathan Ali · Marius Hrdy · Kerry Jones · Rhea Storr · Trainee Rhys Ford · Designer Humphrey Weightman · PR Officer Lesley Booth · Trustees Sue Briggs · Sandy Devers · Irene Faith · Karen Gateson · Miwa Nagato-Apthorp · Sarah Perks · Rachel Pronger · Mark Timmins · Irene Young
---
INSTALLATIONS AND EXPANDED CINEMA ARTISTS
Dianna Barrie · Kate Bell · Sky Cubacub · Chris Paul Daniels · Ufuoma Essi · Joep Hinssen · Mark Lyken · Leah Millar · Sharon Mooney · Outre-vie · Grace Phillips · Cristina Picchi · Laurie Robins · Eloise Sherrid · Richard Tuohy · Lizzie Watts · Lauryn Welch · Yvonne Zhang
---
PARTNERS
Borders College · The Borders Distillery · Dalton's (Exchange Bar) · Damascus Drum · Food Punks · Hawick Film & Video Group · The Hawick Paper · Hawick Scout Pipe Band · Live Borders · The Oak Lounge · Teviot Electric Car Club · Unit Four · Volunteer Centre Borders
---
THANKS
Kitty Anderson · David Apthorp · Lauren Beattie · Lydia Beilby · Neal Bennison · Oliver Benton · Anne Borthwick · Paul Brough · Michael Bruce · Dagie Brundert · Betty Burney · Norman Butler · Ruth Butler · Greg de Cuir, Jr · Julie Currie · Sophy Delavigne · Almudena Escobar López · John Fordyce · Colin Gilmour · Gillian Goode · Sean Greenhorn · Ashanti Harris · Clare Harris · Dave Hodson · Jane Hogg · Onyeka Igwe · Reece Innes · Kevin Janiak · Gillian Jardine · Moira Jeffrey · Martha Jurksaitis · Alan King · Lucas Kao · Sophie Lindsey · Michelle Lowrie · Sarah Macdonald · Jason Marshall · Andy Maybury · Rhianne Miller · Gillian Morton · Jason Moyes · Hiroko Nagato-Apthorp · Eileen Paris · Jim Paris · Kay Pattison · David Peacock · Adam Pugh · Leslie Raymond · Julie Redpath · Lyndsay Ross · Paul Rous · Frances Ryan · belit sağ · Linda Scott · Donna Shaw · Mark Thomas · Gary Varro · Clea Wallis · Eileen Walsh · Ed Webb-Ingall · Julie Witford · Hannah Wright