---
Seat in Shadow
Henry Coombes / 01:20:00 / 2016 / United Kingdom /
FRIDAY 3 MARCH
4.30pm – 6.15pm
Out of the imagination of acclaimed artist-filmmaker Henry Coombes comes Albert, an eccentric, aging painter doubling as an unconventional, Jung-inspired psychotherapist. When Albert's friend asks him to counsel her lethargic grandson Ben, whose ongoing boyfriend problems are rapidly fueling an already deep depression, their subsequent therapy sessions reveal as much about Albert as they do about the troubled young man. Coombes' debut feature is a witty, perceptive study of social mores, sexual excess and the bizarre, symbiotic relationship between doctor and patient; teacher and pupil; artist and muse.
Lead actor David Sillars will be present for a Q&A
Biography/Filmography:
Henry Coombes is a Scottish-based artist whose films explore people surviving existential crises using absurdist humour and a wild, instinctive imagination.
Tickets: £5
MAIN AUDITORIUM, HEART OF HAWICK – TOWER MILL
---
Confessions to the Mirror
Sarah Pucill / 1:08:00 / 2016 / United Kingdom / Scottish Premiere
FRIDAY 3 MARCH
7.45pm – 9.20pm
Amidst a visual extravaganza of costumes and hand-made sets, Sarah Pucill's new film takes its title from the French Surrealist artist, Claude Cahun's (1894-1954) incomplete memoir ("Confidences au miroir", 1945-1954). Following Cahun's text, the film includes Cahun's early and later life and work including her political propaganda activity and imprisonment in Jersey with her partner Suzanne Malherbe during the Nazi occupation of the island. The tracing of a life is made conscious through the projection of images of the couples home in Jersey into a domestic London setting.
Sarah Pucill will be present for a Q&A
Biography/Filmography:
Sarah Pucill has continuously been making 16mm short films that have received public funding since completing her MA at the Slade in 1990. Her films have been shown in galleries and won awards at Festivals internationally. The majority of her films take place within the confinements of domestic space, where the grounded reality of the house itself becomes a portal to a complex and multi layered psychical realm.
Tickets: £5. Buy Tickets Here or call the Box Office: 01450 360688 (Int'l00 44 1450 360688)
MAIN AUDITORIUM, HEART OF HAWICK – TOWER MILL
---
Play Me Something
Timothy Neat / 01:12:00 / 1989 / United Kingdom /
SATURDAY 4 MARCH
4.30pm – 6.10pm
A film about storytelling that features John Berger at the height of his powers. Set on the airport lounge on the remote Hebridean island of Barra, it tells a love story that unfolds in working class Venice. The film presents a group of individuals including a hairdresser, a TV repairman, and a motorcyclist, all awaiting a flight to Glasgow. They meet an enigmatic stranger (John Berger), who tells them the story of a romantic encounter in Venice between an Italian farm worker and a young woman, who spend an evening together talking, dancing, and playing music. Combining a multitude of textures and sources – colour, black and white, 16mm and 35mm, and, for the story within the story, evocative still photographs by Jean Mohr – the film becomes a compelling meditation on the nature of stories and storytelling, politics, work, people and places, and sexuality. A collaboration between director Timothy Neat and the intellectual and storyteller John Berger, the film is a beautiful and mesmerising adaptation of one of Berger's stories: the last chapter of "Once in Europa" (1987), part of his great "peasant trilogy" titled "Into their Labours". The film features the young Tilda Swinton, the poet Liz Lochhead, the Gaelic singer Margaret Bennett, B/W photographs by Jean Mohr, and a remarkable sound track by composer Jim Sutherland. The film won the Premi Europa Award for Best Film at the Barcelona International Film Festival in 1989.
Timothy Neat will be present for a Q&A
Biography/Filmography:
Brought up in Cornwall, Timothy completed a degree in Fine Art at the University of Leeds and moved to Scotland in 1968. From 1973 to 1988, he lectured in History of Art at Duncan of Jordanstone College of Art and Design in Dundee. There, he became the founder-editor of a fine-art periodical called Seer and organised a series of national conferences on topics including public art, women's art and Scottish art. As convenor of the Scottish Sculpture Trust he supervised the major George Rickey sculpture exhibition on Clydeside (1982), the Eduardo Paolozzi exhibition at the Royal Scottish Academy (1984) and the funding and erection of the Hugh MacDiarmid Memorial Sculpture in Langholm (1985).
Author of eleven books – on Charles Rennie Mackintosh, traditional culture in Highland Scotland, a two volume biography of his friend Hamish Henderson – Timothy's most recent publications present his photographs and drawings (and both are introduced by John Berger. His documentary films include The Summer Walkers (1976), Hallaig (1984), The Tree of Liberty (1987) and Journey to a Kingdom (1992). In 1991 he was employed as a documentary consultant for Scottish Television and during this time there, he wrote the libretto of an opera, Mackintosh. The Mackintosh Club (Helensburgh) is currently seeking funding for a 150th Anniversary production, in 2018.
After twenty three years of financially enforced silence as a film-maker, Timothy was last year invited by the Image de Ville Festival, Aix-en-Provence, to make a one hour film of his drawings for their Spring Festival (April 2017). It is entitled Europa 2017: The Ink-blot Test, and has special significant because it will be the last of his many creative collaborations with John Berger (1926-2017).
Tickets: £5
MAIN AUDITORIUM, HEART OF HAWICK – TOWER MILL
---
It's What's Inside That Counts
Rachel Maclean / 00:30:00 / 2016 / Scotland / Scottish Premiere
SATURDAY 4 MARCH
7.45pm – 9.10pm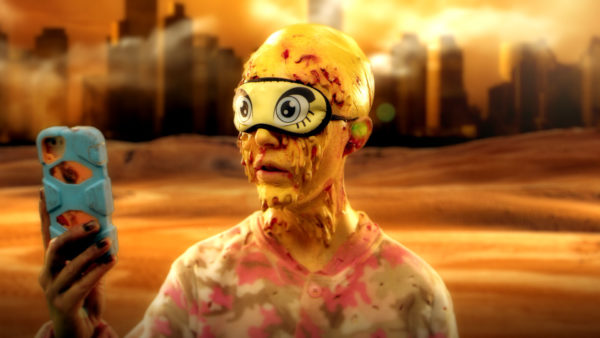 Rachel Maclean is the artist selected to represent Scotland at the 2017 Venice Biennale, in a major new film exhibition curated by Alchemy Film & Arts. Her work powerfully satirises the fears and desires of our contemporary zeitgeist, cloaked in a super-saturated aesthetic of fairy-tale consumer culture.
In It's What's Inside That Counts – commissioned by HOME, Manchester and recently exhibited at Tate Britain – the supermodel figurehead of a greed-driven data provider is stalked by a band of guerilla hacktivist rat creatures. Their aim is to disrupt and gorge upon the addictive invisi-juice that powers phones and pocket tablets in a nightmarish, dystopian city; gnawing on bandwidth cables like sugar cane to suck at the sweet nectar within. Above ground, the citizens of this coffee marinaded world are infected with a plague-like lethargy: zombies stumbling in stained bedclothes in search of ever greater connectivity, disconnected from non-virtual reality.
In this screening Rachel Maclean will be part of an exclusive Q&A with Alchemy's Creative Director, Richard Ashrowan, discussing the evolution of her work and the themes of her new Venice commission.
Biography/Filmography:
Rachel Maclean (b.1987, Edinburgh) is a graduate of Edinburgh College of Art. Working across film, print and photography she constructs fantasy narratives that play with issues of identity, social values and politics.
Recent exhibitions include: 'Wot u 🙂 about?' (2016), HOME, Manchester and Tate Britain, London; 'We Want Data' (2016), Artpace, Texas; 'British Art Show 8' (2015); 'Ok, You've Had Your Fun', Casino Luxembourg (2015); 'Please, Sir…', Rowing, London, (2014); 'The Weepers', Comar, Mull, (2014); 'Happy & Glorious', CCA, Glasgow, (2014), part of Generation, 25 Years of Contemporary Art in Scotland. Recent screenings include: Alchemy Film & Moving Image Festival (2017); Athens and Luxembourg Film Festival (2016); Moving Pictures, British Council and Film London, (2015-16); Impakt Festival, Utrecht, The Netherlands, (2014).
Tickets: £5
MAIN AUDITORIUM, HEART OF HAWICK – TOWER MILL
---
Exprmntl
Brecht Debackere / 01:10:00 / 2016 / Belgium / Scottish Premiere
SATURDAY 4 MARCH
7.45pm – 9.00pm
A witty and irreverent documentary telling the story of EXPRMNTL, the legendary experimental film festival and mythic gathering point of the international avant-garde.
Knokke is a small, mundane coastal town in Belgium that has traditionally been home to the beau-monde. In 1949, the casino hosted the second 'World Festival of Film and the Arts', organised in part by the Royal Cinémathèque of Belgium. To celebrate cinema's 50-year existence, they put together a side-programme showcasing the medium in all its shapes and forms: surrealist film, absolute film, Dadaist film, abstract film. This side programme became EXPRMNTL, the now-legendary film festival dedicated to experimental cinema. Taking place between Christmas and New Year over seven editions from 1949-1974, EXPRMNTL was a stellar gathering of filmmakers and artists working in the avant garde. It included Yoko Ono, Jean-Luc Godard, Agnès Varda, Jonas Mekas, Roman Polanski, Stan Brakhage, Nam June Paik, Martin Scorsese and Harun Farocki. EXPRMNTL tells the story of the festival through the people that were there, and its influence in shaping the language and culture of the international experimental film movement.
Biography/Filmography:
Tickets: £5
HEART OF HAWICK, HERITAGE HUB
---
The Tower
Karolina Breguła / 01:19:00 / 2016 / Poland / Scottish Premiere
SUNDAY 5 MARCH
1.45pm – 3.30pm
An opera musical about a group of people who live in the same concrete block of flats and who plan to build a sugar tower together. Full of absurdity and anxiety, the story of a utopian project that addresses the history of post war housing architecture, analysing it from the position of its users – the inhabitants of a modernist city. The dreams and desires of the tower's inhabitants are juxtaposed with the difficult reality of life in the block and the contradictions inscribed in their modernist plan.
Ela Orleans will be present for a Q&A, with Karolina Breguła by Skype
Biography/Filmography:
Karolina Breguła (born 1979) is a visual artist. She creates films, installations, happenings and photography. She has performed and exhibited in places such as the Venice Art Biennale, the Jewish Museum in New York and the National Museum in Warsaw. She has received numerous awards including The Golden Claw at Gdynia Film Festival, the Views 2013 and Videobrasil 2015. She has been awarded multiple scholarships including the Polish Ministry of Culture Scholarship, the Visegrad Scholarship and the UNESCO scholarship. She lives and works in Warsaw. 
Tickets: £5
MAIN AUDITORIUM, HEART OF HAWICK – TOWER MILL
---
Incident Reports
Mike Hoolboom / 00:70:00 / 2015 / Canada / European Premiere
SUNDAY 5 MARCH
5.45pm – 7.10pm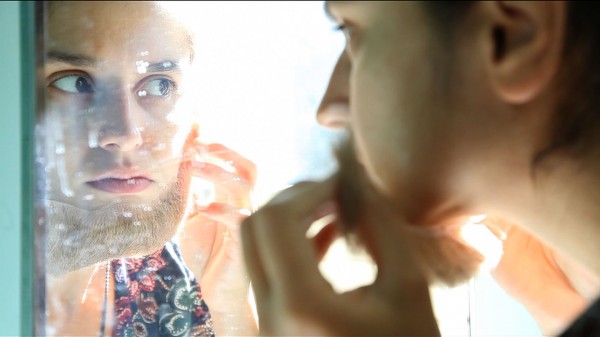 After a bike accident, the amnesiac undertakes audio-visual therapy by producing a suite of one minute shots. The voice-over weighs in on gender, animals and the end of literary culture. A love story essay featuring Elvis, wrestlers, boy ballet, naked cyclists and the heavenly voices of Choir Choir Choir.
Biography/Filmography:
Born: Korean War, the pill, hydrogen bomb. 1980s: Film emulsion fetish and diary salvos. Schooling at the Funnel: collective avant-geek cine utopia. 1990s: experimentalist features, transgressive psychodramas, questions of nationalism. 2000s: Seroconversion cyborg (life after death), film-to-video transcode: feature-length-found-footage bios. Fringe media archaeologist: copyleft author 7 books, co/editor 12 books. 80 film/vids, most redacted. 10 features. 70 awards, 15 international retrospectives.
Tickets: £5. Buy Tickets Here or call the Box Office: 01450 360688 (Int'l) 00 44 1450 360688)
MAIN AUDITORIUM, HEART OF HAWICK – TOWER MILL
---
Edith Walks
Andrew Kötting / 01:01:00 / 2016 / United Kingdom / Scottish Premiere
MONDAY 6 MARCH
8pm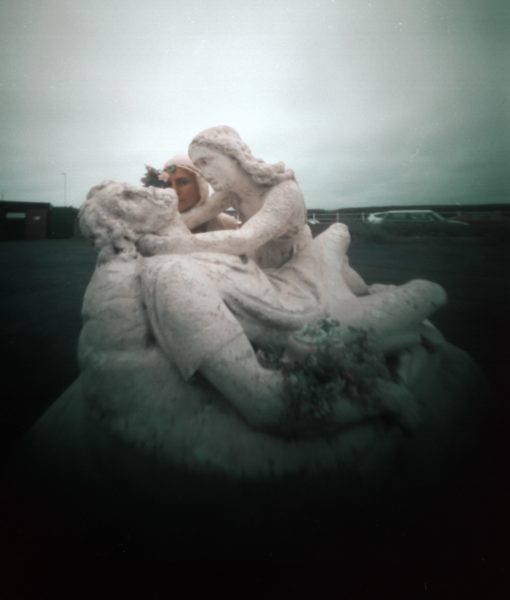 60 minute 66 second feature film inspired by a walk from Waltham Abbey in Essex via Battle Abbey to St Leonards-on-Sea in East Sussex. The film documents a pilgrimage in memory of Edith Swan Neck.
The 108 mile journey, as the crow flies, allows the audience to reflect upon all things Edith. A conversation in Northampton between Alan Moore, Iain Sinclair and Edith Swan Neck is also a key element to the telling "story".
Biography/Filmography:
Filmmaker, writer and artist trained at College of Art and Design in Ravensbourne and at Slade School of Fine Arts in London. After several award-winning experimental short films, Andrew's first feature film, "Gallivant" (1996) was a road movie about his three-month journey along the coast of Britain, with his mother Gladys and his daughter Eden who suffers from the very rare Joubert's syndrome. Alongside performance, short films and installation works, his subsequent feature films have all been released in the UK: "This Filthy Earth" (2001), "Ivul" (2009) and "This Our Still Life" (2011).
Tickets: This screening is included in Andrew Kötting Film-Walk to Hermitage Castle. – an 8 mile walk to Hermitage Castle setting out from Hawick at 11:30am on Mon 6 March. There are also a limited number of tickets available for the screening only, available to buy here
HERMITAGE HALL, HERMITAGE WATER, HAWICK, SCOTTISH BORDERS, TD9 0LX
---