FRIDAY 4 MAY
11:50am – 1:30pm
Tickets: £5
MAIN AUDITORIUM – HEART OF HAWICK
Spoken word and image collide through a typewriter, film consciousness, and a story of failed execution in Olly Olly Oxen Free. In Creepers, a headless body inhales and exhales the language of animals, as if possessed by animism. Debris presents us with a fever dream of energised fragmentary film, a travelogue of a shipwreck. In Eidolon, the dream deepens into three overlapping magical nightmares, apparitions and ghosts. Linguistic divisions evaporate as a conversation with a drug-taking crow ensures in To get in touch with crows. In Onward Lossless Follows, the stars won't help you but a horse with no name might, permeated with stranger-danger. Words, memory and meaning dissolve entirely in playful defiance of language itself within Dit Learn. A quiet and dreamlike harmony is restored through a visual poetry of being and shadows in Impassenger.
* Katharine Fry, Giuseppe Boccassini, Louise Milne, Rhona Mühlebach, and Ben Pointeker will be present for a Q&A.
Olly Olly Oxen Free
Julia Dogra-Brazell / 3m 9s / 2017 / United Kingdom / Scottish Premiere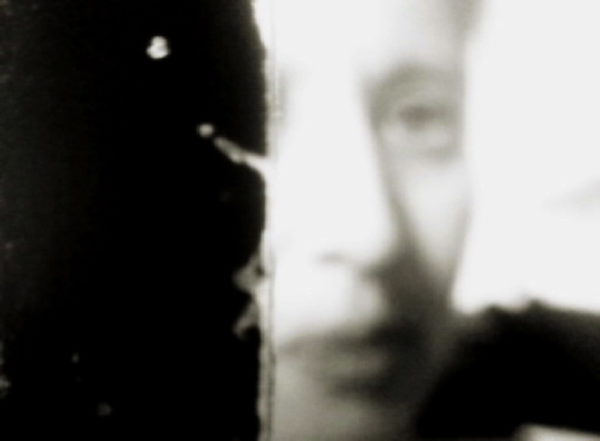 The title refers to a phrase once popular in childrens' games such as hide and seek. It signals either that players may come out into the open with impunity without losing the game, or there is a change of sides, or that the game is over.
Biography/Filmography
Julia Dogra-Brazell is an artist working with film, video, sound and the still image. She studied literature at London and Cambridge Universities in the early eighties and, in the late nineties, when at Central St. Martins School of Art and Design, shifted an acquired interest in storytelling, poetry, history and memory to the context of visual culture. Her latest films were invited to the 61st BFI London Film Festival, 14th London Short Film Festival and the 2017 edition of San Francisco Cinematheque's 'Crossroads' at the San Francisco Museum of Modern Art.
---
Creepers
Katharine Fry / 5m 39s / 2017 / United Kingdom / Scottish Premiere
A headless body inhales. Her expansion is an invocation. Her spirit enters. Enraptured, her body pulses to animal rhythms. Bird song. Wolf howl. Bear growl. Purr. Her spirit exits. Exhale.
Biography/Filmography
Katharine Fry's videos start with a site responsive performance gesture by a woman, contained first by her interior then by the screen frame. The violence of the cut adds another physical imperative to the contained body. Fry then stages her videos as encounters with bodies. Each work plays out as an intimate confrontation with the viewer invited to perform a particular physical proximity. Fry's work is permeated with ambivalence. Her character appears physically caught between enclosure and protection and psychically lingers between inertia and withdrawal. Through a feminist process, Fry turns her interest to enmeshment, individuation, and pathologies of development.
---
Debris
Giuseppe Boccassini / 11m / 2017 / Germany / UK Premiere
Debris is a travelogue of a shipwreck which tries, through decomposed memories, to grab onto new flesh.
Biography/Filmography
Giuseppe Boccassini is an Italian filmmaker mainly working in Germany and Italy. He graduated in film theory at the University of Bologna and in film direction at The New University of Cinema and Television located in Cinecittà, Rome. His work has been shown at several international film festivals and exhibitions, including FID Marseille, France, Torino Film Festival , Italy, FESTACURTAS BH , Brasil, Crossroads SF, USA, Avvistamenti , Italy, Punto de Vista, Spain, Trentino History Museum, Italy, Pesaro Film Festival, Italy. His entire film production is distributed by Light Cone. By transforming and manipulating various sources of archival material, his work reflects upon the notion of a haptic proximity of contemporary media.
The director considers film as "A phallic conquerer that, folding in on itself, now flaccid deus ex machina, observes itself from the inside like a lysergic membrane that slowly founders between the folds of its own material".
His most recent collaborations include the film editing for Aldo Tambellini's solo exhibition Black Matters, at ZKM Karlsruhe, Germany and is the artist for Chicago Film Archives' 2018 Media Mixer. He is one of the curators of Fracto, a new experimental film screening event at ACUD macht neu, Berlin.
---
Eidolon
Louise S. Milne / 10m / 2017 / United Kingdom / World Premiere
Eidolon: dream-image, apparition, phantom, ghost. Three dreams in three voices navigate a garden of forking paths. With texts from Horace, Freud's Wolf Man and an anonymous late 20C dreamer, a film in Super8 and HD about magical nightmares, memory and loss.
Biography/Filmography
In her films and publications, Louise S. Milne explores the history of dreams and nightmares. She teaches at Edinburgh Napier University and Edinburgh College of Art, and is working on a film about Andrei Tarkovsky and dreams.
http://vimeo.com/lanternamagickafilms
---
To get in touch with crows
Rhona Mühlebach / 6m 30s / 2016 / Switzerland /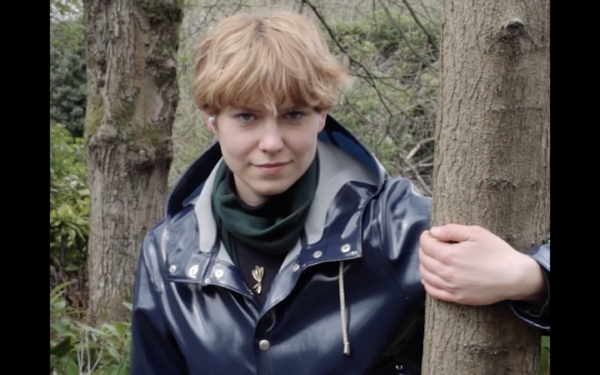 A woman tries to engage with crows in the local park and gets surprisingly emotional.
---
Onward Lossless Follows
Michael Robinson / 16m 45s / 2017 / United States / UK Premiere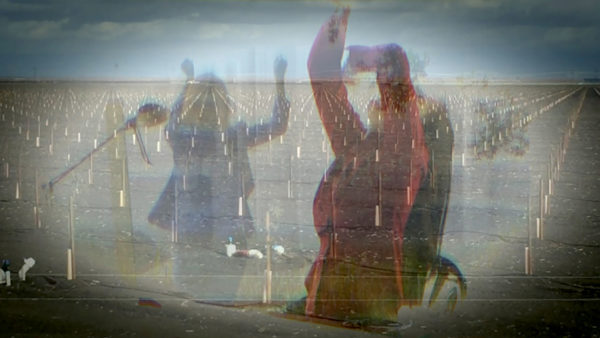 A password-protected love affair, a little vapor on Venus, and a horse with no name ride out in search of a better world. Against the mounting darkness, a willing abduction offers a stab at tomorrow.
Biography/Filmography
Michael Robinson is an American artist whose work has shown in both solo and group exhibitions at venues including The 2012 Whitney Biennial, IFF Rotterdam, MoMA P.S.1, New York Film Festival, Whitechapel Gallery, REDCAT Los Angeles, Walker Art Center, BFI London Film Festival, Kurzfilmtage Oberhausen, Hong Kong IFF, FotoFest 2010 Biennial, The Austrian Film Museum, Sundance Film Festival, and The MMCA Seoul. He lives and works in Los Angeles, CA, is represented by Carrie Secrist Gallery in Chicago, and is distributed by Video Data Bank. Michael is currently developing his first feature-length film project, I'll Be Thunder.
---
Dit Learn
Laure Prouvost / 15m 44s / 2017 / Belgium / UK Premiere
YOU ARE 6 MINUTES LATEYOU ARE HERE YOU ARE THE NOWYOU ARE THE NEXT 12 MINSYOU ARE GOING TO DIT-LEARNYOU ARE THE NEXT 4 PARTSYOU ARE TO BECOMETHE SEAT YOU ARE | SAT ON
Biography/Filmography
Laure Prouvost was born in 1978 in Croix-Lille, France. She lives and works in London, UK and Antwerp, Belgium. After receiving the Max Mara Prize for Women , Prouvost was the first French artist to win the prestigious Turner Prize for contemporary British artists and/or living in Great Britain. Prouvost was a LUX Associate Artist 2008/9.
http://www.laureprouvost.com
https://lux.org.uk/artist/laure-prouvost
https://www.lissongallery.com/artists/laure-prouvost
---
Impassenger
Ben Pointeker / 6m / 2017 / Austria, China / UK Premiere
Spaces encompass the protagonists who appear consumed by the space en passant. Actors in steamy streets confront with unreal places. Narrative startings are cut, scenes seem trapped in an iterative structure and the promise of fantastic landscapes doesn't unclose an escape. Spaces detached from their locality are both real and fantasy. I disrupt scenes and associations because I seek the space that opens up in the form of an affective gap.
"Through diverse processes of doubling, reflection, and variation, the film leads us continually deeper into the fearful states of a shadow being that seems to float oddly on the surface while its emotional life is cast back into the distorting mirror of the surroundings. Ben Pointeker´s IMPASSENGER describes an emotional resonance space and in doing so, allows cinema to become haptic. Crystalline time-images formulate to a tactile alphabet between introspective landscape and externalized emotionality. At the same time, he newly explores the relationship of proximity and distance, and lets the object of the investigation ultimately congeal to subject."
Shilla Strelka
Biography/Filmography
Impassenger (2017), Erdkörper (suns of temper) (2011), . ….. .:.:…:::ccccoCCoooo:: (2007), a lucia (2001), Overfart (1999);
Forst (collaboration, 2005)
---
---