56TH ANN ARBOR FILM FESTIVAL
SATURDAY 5 MAY
10:00am – 11:20am
Tickets: £5
MAIN AUDITORIUM – TOWER MILL
The Ann Arbor Film Festival is the oldest avant-garde and experimental film festival in North America, founded by George Manupelli in 1963. The six-day festival, which takes place in America's Midwest, presents 40 programs with more than 180 films from over 20 countries of all lengths and genres, including experimental, animation, documentary, fiction, and performance-based works.
The selection of 16mm films in this program features award-winning and other films of interest from the 56th Ann Arbor Film Festival, held in March 2018.
* Leslie Raymond, Executive Director at Ann Arbor Film Festival will be present to introduce the programme.
601 Revir Drive
Josh Weissbach / 8m 40s / 2017 / United States / European Premiere
A series of spatial limits are defined while a maker imbibes. Interdependence is inherited after a substance cannot be shook. An animal carefully guards an outlined space as a river runs backwards.
Biography/Filmography
Josh Weissbach is an experimental filmmaker. He lives in a house next to an abandoned village with his wife, two daughters, and three cats. His films and videos have been shown worldwide in such venues as Ann Arbor Film Festival, Mono No Aware, Chicago Underground Film Festival, 25 FPS Festival, and Alchemy Film & Moving Image Festival. He has won jury prizes at Videoex, ICDOCS, $100 Film Festival, Onion City Experimental Film and Video Festival, and Haverhill Experimental Film Festival. He is the recipient of the 2008 Cary Grant Film Award from the Princess Grace Foundation-USA, a 2013 Mary L. Nohl Fellowship for Emerging Artists from the Greater Milwaukee Foundation, and a 2015 LEF Fellowship from the Robert Flaherty Film Seminar.
https://vimeo.com/joshweissbach
---
How Old Are You? How Old Were You?
Cherlyn Hsing-Hsin Liu / 15m 50s / 2017 / United States / European Premiere
Inspired and shot on 16mm film using Camera Obscura techniques, How Old Are You? How Old Were You? fractures the logic of time to contemplate bringing one back to the origin, the womb. A dialogue between two selves – infant and adult; the film traverses through a series of psychological events, transforming memories of the past, emotions, thoughts and imagination.

Biography/Filmography
Born in Taiwan, Cherlyn Hsing-Hsin Liu is a multimedia artist, filmmaker and writer. Her creative writings span across different fields including novels, poetry and plays. Cherlyn is a current MFA student in the School of Film/Video at California Institute of the Arts, where she found her enthusiasm for experimental cinema. Her films Close-Ups (2014) received the Jury's First Prize at the 21st Women Make Waves Film Festival in Taiwan and Matryoshka (2015) screened in countries such as the US, Canada, Finland, and others.
---
Shape of a Surface
Nazlı Dinçel / 9m / 2017 / Turkey /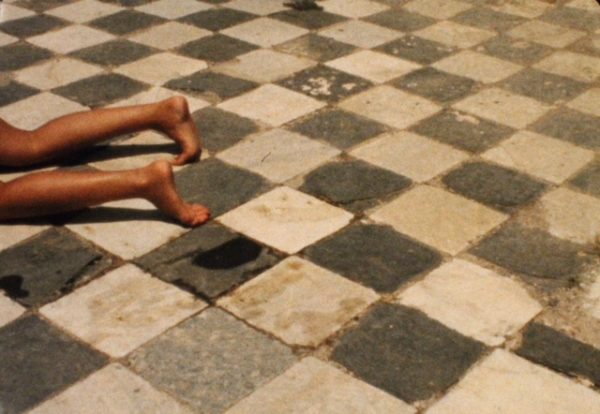 The ground holds accounts of once pagan, then Christian and now Muslim ruins of the city built for Aphrodite. As she takes revenge on Narcissus, mirrors reveal surfaces and what is seen, limbs dismantle, and marble turns flesh.
Biography/Filmography
Nazlı Dinçel's hand-made work reflects on experiences of disruption. She records the body in context with arousal, immigration, dislocation and desire with the film object: its texture, color and the tractable emulsion of the 16mm material. Her use of text as image, language and sound imitates the failure of memory and her own displacement within a western society.
Born in Ankara, Turkey, Dinçel immigrated to the United Sates at the age of 17. Dinçel resides in Milwaukee, WI where she is currently building an artist run film laboratory. She obtained her MFA in filmmaking from UW-Milwaukee. Her works have been exhibited in numerous venues around the world including Tiger Shorts competition at IFFR, New York Film Festival, Edinburgh International Film Festival and Dallas Contemporary. She recently won the Marian McMahon Akimbo award at the 2017 Images Festival with Untitled (2016) and was also awarded Best Experimental Film at the 2015 Chicago Underground Film Festival with Her Silent Seaming (2014). In addition to exhibiting with institutions, Dinçel avidly self-distributes and tours with her work in micro-cinemas, artist run laboratories and alternative screening spaces in order to support and circulate handmade filmmaking to communities outside of institutions.
---
Pancoran
Richard Tuohy and Dianna Barrie / 9m / 2017 / Australia / UK Premiere
Jakarta traffic moves with the harmonious chaos of complex self-organising entities everywhere. Through contact printer matting techniques this mass transport becomes denser and denser until only the fluid futility of motion/motionlessness remains. Jakarta traffic stands as proof of the paradox of motion.
Biography/Filmography
Richard Tuohy (b. 1969, Melbourne, Aus.) began making works on super 8 in the late nineteen eighties. After a brief hiatus from cinema (including formal study in philosophy for seven years) he returned to filmmaking in 2004. Since then he has created over 40 films. His films have screened at venues including the Melbourne IFF, EMAF (Osnabruck), Rotterdam IFF, New York FF, Ann Arbor and Media City and he has toured Europe, North America and Asia presenting solo programs of his work. His films are typically highly structured and and have strongly formalist concerns. He is the proprietor of the artist-run film lab nanolab – the only lab for small gauge film in Australia. An advocate for the possibilities of hand-made cinema, Tuohy has devoted much time and effort in sharing his knowledge through workshops and classes both in his native Australia (notably through the Artist Film Workshop in Melbourne of which he is the founder and convener) and internationally.
As a young person Dianna Barrie found her way into filmmaking as a middle ground between the pursuit of abstract music and philosophy. Ever pushing the limits of the hand processing of super 8 led to the establishment of nanolab with Richard Tuohy, and into the intersection of hand making and industrial cinema technology. This exploration has spread beyond individual work to the establishment of Artist Film Workshop, where celluloid is embraced and advocated by a community of practitioners in Melbourne.
---
Blue Movie
Michael Morris / 7m / 2015 / United States / European Premiere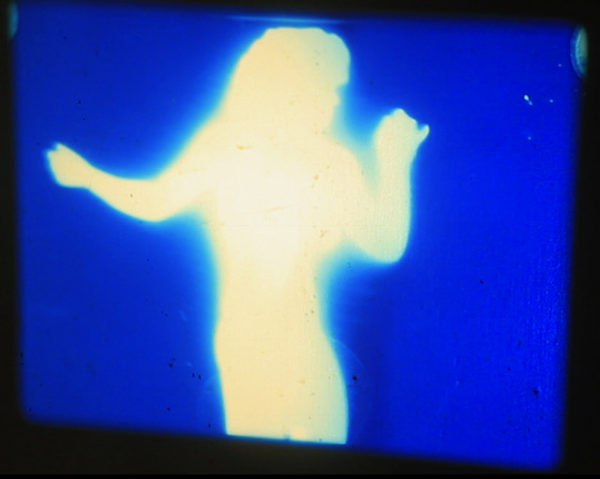 Blue Movie is an elegiac tribute to the late Juanita Slusher, a Dallas-based exotic dancer well known in the '50s and '60s as "Candy Barr". Footage from the stag film Smart Alec, a film given to me by my grandfather, is used as the majority of the source imagery, set to a rendition of "Autumn Leaves" performed by Dallas based vocalist Lily Taylor. The song was noted by Candy Barr as her favorite to dance to, while also noting that she viewed her dancing as a form of creative expression. The silver-based emulsion of the film was replaced with cyanotype chemistry and laid under the sun to create the blue image.
Biography/Filmography
Michael Morris is an artist and educator based in Dallas, Texas. He works primarily with film, video, and expanded cinematic forms. Much of his recent work responds to the rapid changes in how moving images are created and experienced in the 21st century. He has performed and screened at museums, galleries, microcinemas, and film festivals internationally, including recent events at Boulder Museum of Contemporary Art, The International Symposium of Electronic Art in Vancouver, Oak Cliff Film Festival, Chicago Underground Film Festival, San Francisco Cinematheque, and the Texas Biennial.
Morris teaches at several institutions throughout the Dallas/Fort Worth area and curates programs around the region regularly, including the Dallas Medianale and as cofounder/programmer for Spectacle Society, a microcinema collaboration with the Dallas Contemporary. He is also a regular visualist at Dallas Ambient Music Nights, a monthly showcase of experimental music in the D/FW area.
Michael A. Morris on Vimeo.
Michael A. Morris on Soundcloud.
http://www.michaelalexandermorris.com/
---
---
http://www.aafilmfest.org