BEHIND THE CURTAIN PRESENTS: HERE I AM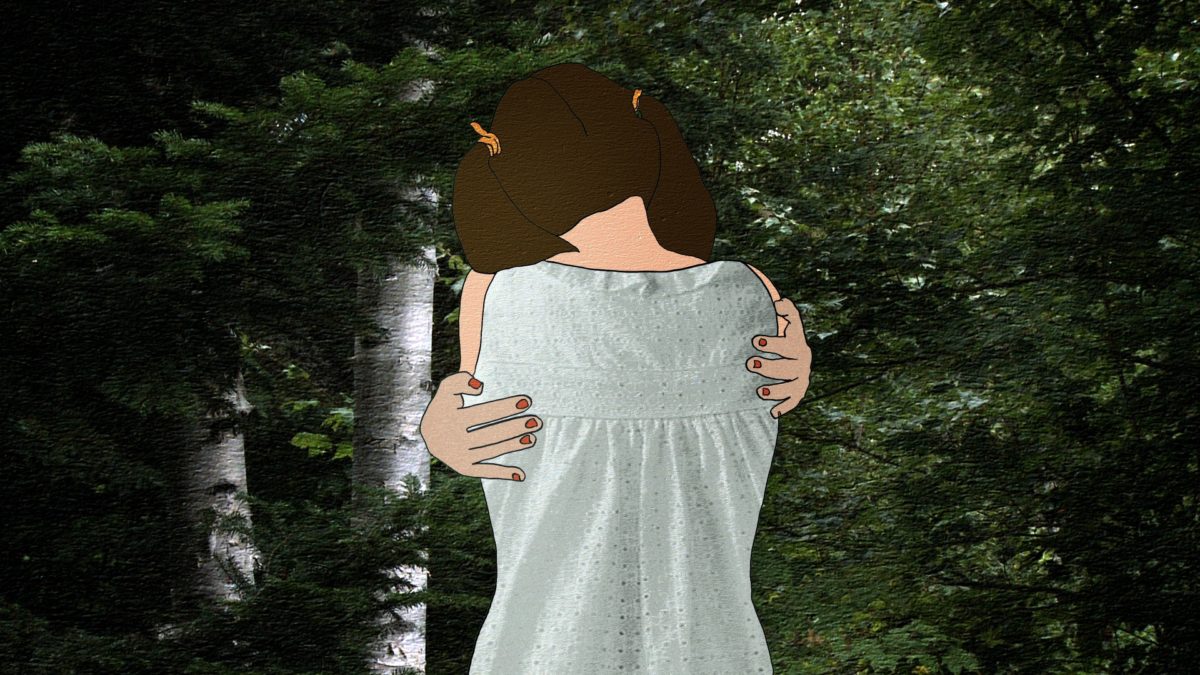 SUNDAY 6 MAY
4:00pm – 5:45pm
Tickets: £5
MAIN AUDITORIUM – TOWER MILL
Please note this screening is only suitable for audiences over 18 years of age.
Behind the Curtain is a feminist film project. Developed from the belief that our identities are affirmed and our experiences validated when we see ourselves on screen, and that an intersectional feminist cinema is vital to our wellbeing, both as individuals and as a community. Featuring animation, narrative, experimentation, performance and documentary, this selection brings together films that differently resist compliance, defy expectations and assert identity within the structures of family, religion, media, the economy and politics.



* Curated and introduced by Harriet Warman.
Lessons for Polygamists
b.h. Yael / 14m 33s / 2017 / Canada / World Premiere
Told from their perspective growing up in a polygamous household, b.h. Yael addresses the patriarch directly, using animation and collage to convey the frustration and righteousness of their adolescent voice.
There's a sense of bottled-up childhood anger now released with the benefit of an adult's hindsight, and yet Yael's film is powerful for how it retains a child's perspective. The film captures perfectly the tension between naïvety and self-awareness, when injustices are clear to see but the power to speak is more elusive.
Biography/Filmography
b.h. Yael is a Toronto based filmmaker and installation artist. She is Professor of Integrated Media at OCAD University and currently Chair of Senate. Yael's work has exhibited nationally and internationally and has shown in various settings, from festivals to galleries to community and activist groups, as well as various educational venues. Yael's films and installations have dealt with the many intersections of identity and family; it has focused on activist initiatives in Palestine/Israel, as well as apocalypse, geopolitical and environmental urgencies. Select titles include: Fresh Blood, A Consideration of Belonging; In the Middle of the Street; and Palestine Trilogy. Collaborative and collective projects include Spontaneous Combustion; the Olive Project by the Hardpressed Collective; BlahBlahBlah, Re(viewing) Quebec; and the Approximations series with Johanna Householder. Yael has also programmed arts lectures and media screenings, and occasionally she writes.
---
For Nonna Anna
Luis De Filippis / 13m / 2017 / Canada / Scottish Premiere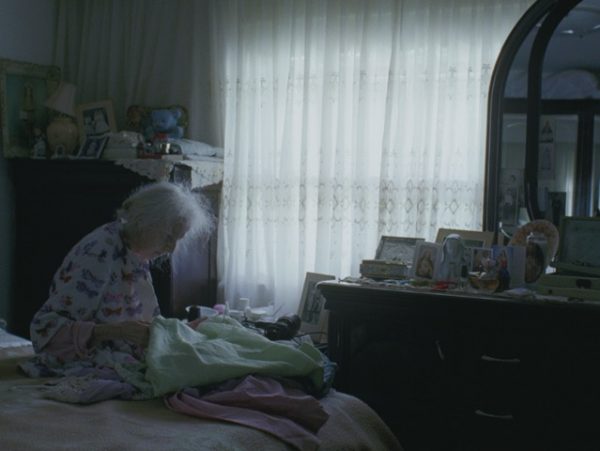 When a trans girl is left to care for her elderly Italian grandmother for the night, she discovers a lost tenderness in their relationship that is revived in their shared vulnerability. Shot on 35mm in Luis de Filippis' own grandmother's home, For Nonna Anna is revelatory in its positive depiction of a nurturing, intergenerational relationship. Its simplicity of narrative belies the grand themes it explores; of dependency in ageing and self-acceptance.
Biography/Filmography
Luis De Filippis is a trans femme / gender fluid writer & director based in Toronto. Since graduating from Ryerson's Image Arts Film program they have been making work that celebrates otherness and employs a fierce female gaze. Their work has been shown at international film festivals including: The Toronto International Film Festival, The International Film Festival Rotterdam and Sundance where their most recent work, For Nonna Anna, was awarded a Special Jury Prize.
---
I Have Sinned a Rapturous Sin
Maryam Tafakory / 8m / 2018 / Iran, United Kingdom / UK Premiere
Fragments of Forough Farokhzad's poem, Sin, are read out against Islamic clergies advising women on how to control their lust. Maryam Tafakory's latest film reveals the hypocrisy of gender binaries, using performance, poetry and tightly controlled editing to communicate a quiet outrage.
Biography/Filmography
Maryam Tafakory (b. Shiraz, Iran) is an artist-filmmaker living and working in London. Her work draws on the notion of 'personal as political' in a fractured narrative that involves a subtle negotiation between factual and fiction, exploring allegorical forms of visual narrative, using abstracted, symbolic and textual motifs and their on-screen representation. Part performance, her work draws on womanhood and rites of passage, interweaving poetry, (self)-censorship and religion, combining a formal minimalist syntax and figurative mode of representation. Her work is screened and exhibited internationally including, Rotterdam International Film Festival, Edinburgh International Film Festival, Zurich Film Festival, Internationales KurzFilmFestival Hamburg, ICA London, British Film Institute, Jihlava International Documentary Film Festival, Barbican Centre London, Ciné Lumière Institut Français, London Short Film Festival, British Animation Awards, Bloomberg New Contemporaries and BBC Three.
---
The Source is a Hole
Madsen Minax / 25m 10s / 2017 / United States / European Premiere
Through a series of love letters to feminine deities, The Source is a Hole reveals the authors hunger for an absent lover while telling a series of disparately interconnected stories, ranging from the authors own inception at the 1982 world's fair to his attempt to remove a lodged tampon. A disembodied voice recounts memories and longings, both real and imaged, as stories merge past and future, a poetic emerges. Dreams and erotics proliferate as digital manipulation, landscape, pornography, animation, the everyday, reenactment, archival imagery and appropriated footage coalesce.
The Source is a Hole draws on historical science fiction cinema ranging from Blade Runner to Back to the Future to Logan's Run to The Omega Man and several contemporaries. The filmmaker appears on screen briefly to reenact Bas Jan Aders performance I'm Too Sad To Tell You, and textually/theoretically engages conversations set forth by Jacque Derrida, Roland Barthes, Audre Lorde, Judith Butler, Susan Stryker and others. Some of these theoretic concerns scratch the surface of psychoanalysis, gender construction and social theory. The mystical voice contemplates holes upon holes upon holes: holes through which to travel, holes through which to perceive, holes through which to accept, holes through which to speak.
Drawing on the history of DIY video art and essay film, The Source is a Hole draws parallels between sex and death, love and myth, nature and mechanism, to construct an unyielding terrain of content that displays unabashedly the human drive for connection, in all of its lifeblood and all of its bloodlessness.
Biography/Filmography
Through tones of essay film, magical realism, documentary and expanded narrative, Madsen Minax's films and videos investigate the nature of chosen and biological families, queer and trans embodiment, sex work and BDSM, and the relationships between intimacy, violence, and transformation.
---
YOU ARE BORING!
Vika Kirchenbauer / 13m 43s / 2015 / Germany / Scottish Premiere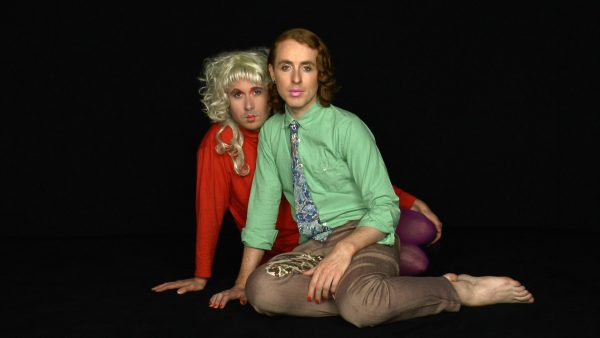 Direct address is the hugely effective mode in this witty, challenging and perceptive work about the problematics of 'looking' and 'being looked at'. The way bodies, especially queer bodies, are commodified, always expected to perform, is unpacked and exposed within the context of the new economy.
Biography/Filmography
Vika Kirchenbauer is an artist, writer and music producer based in Berlin. In her work she explores opacity in relation to representation of the ʻothered' through ostensibly contradictory methods like exaggerated explicitness, oversharing and perversions of participatory culture. She examines the troublesome nature of "looking" and "being looked at" in larger contexts including labour within post-fordism and the experience economy, modern drone warfare and its insistence on unilateral staring, the power relationships of psychiatry, performer/spectator relations, participatory culture, contemporary art display and institutional representation of otherness as well as the everyday life experience of ambiguously gendered individuals.
---
We Will Not be Silent
Caryn Cline / 3m 20s / 2017 / United States / World Premiere
A 16mm camera roll using single-frame techniques to experimentally document the Seattle Women's March on January 21, 2017.
Biography/Filmography
Caryn Cline is a filmmaker, media educator, and urban composter. Originally from the Ozarks in southwest Missouri, she lived and worked in Seattle and Olympia, Washington for many years. She taught media literacy, communications and library/media research at The Evergreen State College and Seattle Central Community College. In 2005, she moved to New York City to pursue her desire to make films. She currently works in 16mm film and digital, exploring the porous seams among experimental, documentary, and narrative film making. She lives in Seattle, Washington.
Caryn's short films have screened at many festivals, including the 2013 Venice Biennale, London and Melbourne International Animation Festivals, Jihlava International Documentary Film Festival (Czech Republic), the Crossroads Festival (San Francisco), Experiments in Cinema (Albuquerque), Madcat (San Francisco), New Filmmakers (NYC), Women in the Director's Chair (Chicago), Techniques of the Observer (New Delhi and Mumbai, India), the Southwest Gay and Lesbian Film Festival (Albuquerque), the Iowa City Documentary Film Festival, and the Milwaukee Underground Film Festival.
---
---