FRIDAY 4 MAY
10:00am – 11:20am
Tickets: £5
MAIN AUDITORIUM – HEART OF HAWICK
Since 2002 the ZEBRA Poetry Film Festival has served as a showcase of a short film genre which lies somewhere between poetry, film and new media. This biannual festival offers both filmmakers and poets themselves from around the world a forum for fixing positions as well as exchanging ideas and experience. This programme presents some of the best works from recent festival editions.
* Alastair Cook and Nick Jordan will be present for a Q&A.
* Curated and introduced by Thomas Zandegiacomo Del Bel, Artistic Director at ZEBRA Poetry Film Festival.
Here we go, Here we go, Here we go
Roxana Vilk / 3m 2s / 2014 / Scotland /
A haunting war poem of scottish coal miners, which are capitulating to the tide of time.
Poem: Here we go, Here we go, Here we go
Poet: Rab Wilson
You can read more about Rab Wilson's poetry at the Scottish Poetry Library.
Biography/Filmography:
Roxana Vilk is an award winning British / Iranian filmmaker, artist, singer, writer and performer. She has created work for BBC World, BBC 2, BBC Persian, Al Jazeera English, MTV World, Amnesty International, British Council, Commonwealth Games and Literature Without Borders to name a few. She has won several awards, most recently 2nd Prix Du Jury at Cannes Art Film Festival in May 2017 and Best Artist Award at London Renaissance Film Festival Best Music Video at California International Shorts Festival and Asbury Music Festival. She is represented by Jo Probitts Arts Management and Aliston Buck Bohemia Talent Management.
---
Emily Melting
Alastair Cook / 1m 55s / 2010 / Scotland /
Gérard Rudolf: "A poem as much about a lost country (South Africa) as it is about people losing each other in the half remembered haze of a boyhood memory."
Poem: Emily Melting
Poet: Gérard Rudolf
You can read more about Gérard Rudolf's poetry here.
The combination of film and poetry is an attractive one. For the poet, perhaps a hope that the filmmaker will bring something to the poem: a new audience, a visual attraction, the laying of way markers; for the filmmaker, a fixed parameter to respond to, the power of a text sparking the imagination with visual connections and metaphor.
A filmpoem is a single entwined entity, a melting, a cleaving together of words, sound and vision. It is an attempt to take a poem and present it through a medium that will create a new artwork, separate from the original poem. The film is a separate work from the text itself and this in turn may be able to open up poetry to people who are not necessarily receptive to the written word. Poetry often tries to deal with the abstract world of thought and feeling, rather than the literal world of things. The Poetry-film is the perfect marriage of the two.
Alastair Cook, Anon 7, 2010.
Biography / Filmography
Alastair Cook works predominantly with video and photography to explore communities undergoing significant transformation and to consider the relationship between individuals and the landscapes they occupy. He is currently the artist in residence at Kaunas Photography Gallery, Lithuania, supported by Street Level Photoworks, Glasgow. He is founder of Documenting Britain and Filmpoem.
---
Paint Me A Painting
Jasmine Kainy / 7m 24s / 2015 / Israel / UK Premiere
Three generations try to communicate. The grandmother and the mother find it difficult to get over the weight of the past. Their hope of reconnection lies with the granddaughter.
Poem: Tzayri Lee Tzeeyur
Poet: Hedva Harechavi
Biography/Filmography:
Jasmine Kainy was born in San Francisco, California, in 1968, but grew up mostly in Tel Aviv, Israel. She started as a radio and print journalist in Tel Aviv, and in 1989 moved to California and studied Radio & Television at SFSU. After graduating with honors she moved back to Tel Aviv and has been working as a director for a wide range of TV channels ever since.
---
Mountain City
Yingli Cai / 3m 38s / 2016 / China / UK Premiere
One cannot but dream of escape as the cable car descends into the mounting urban landscape of Chongqing.
Poem: Mountain City
Poet: Gu Chen
---
Long Rong Song
Alexander Vojjov / 5m 26s / 2015 / Norway / UK Premiere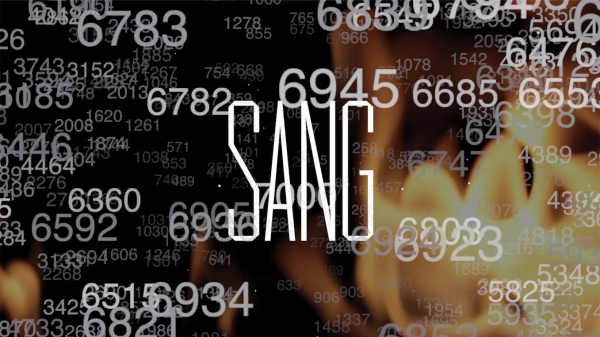 Projected on a framework of particles that is sometimes ordered and sometimes in flux, Ottar Ormstad's constructed language poetry is exposed and read by the author while performing to Mashtalirs pulsating music. This work is a collaboration between composer Mashtalir, poet Ormstad and artist Vojjov. A constructed language mixed with pulsating music in an atmospheric scape gives a unique experience!
Poem: Audition for phenomena without…
Poet: Ottar Ormstad
You can read more about Ottar Ormstad at yellowpoetry.com.
Biography/Filmography:
Based on his concrete poetry, Norwegian poet Ottar Ormstad has published several books, produced animated video-poems, exhibited darkroom-photography and graphic art. He performs sound poetry together with Russian composer Taras Mashtalir. Ormstad is known for yellow letters and Ys that perform to image and music in motion. His works are screened on experimental film festivals and usually premier in venues devoted to literature in programmable media.
---
Off the Trail
Nick Jordan & Jacob Cartwright / 9m 44s / 2015 / England / Scottish Premiere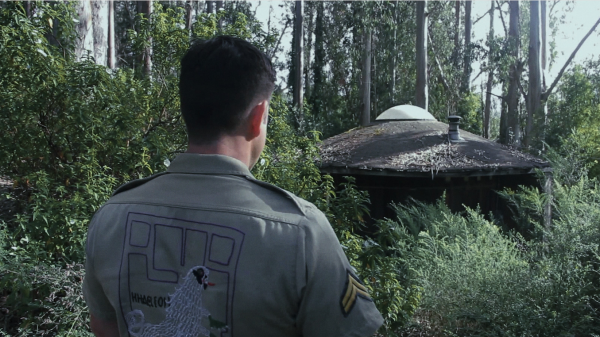 Nick Jordan re-situates Snyder's contemplation on the Dao De Jing and nature into a rolling Californian landscape of fog-shrouded hills, dense woodland valleys, and empty military barracks.
Poem: Endless Streams and Mountains
Poet: Gary Snyder
Biography/Filmography:
Nick Jordan lives and works in Manchester, UK.
http://www.nickjordan.info/offthetrail.html
---
Goldfish
Rain Kencana / 2m 50s / 2016 / Germany / UK Premiere
Ichi Go's reveals her ambivalent attitude towards tradition in the modern world, as she breaks out through a traditional Japanese garment inside an underground passageway in dance.
Poem: Golden Fish
Poet: Shuntaro Tanikawa
Biography/Filmography:
Rain Kencana was born in Jakarta, Indonesia. At the age of five she moved with her Indonesian mother to Berlin. She started her montage study at the German filmschool for digital production at Hff Konrad Wolf in the year 2001. Since then she has edited dozens of music videos, realising that she has other goals, other stories to invent. 
More and more she merges her passion for editing, inventing stories. In 2006 she released her first long feature documentary Full Of Fire, a film about dance, a topic close to her heart. Bit by bit she came to the conclusion that she also wants to direct films although she loves the work as an editor deeply. She needs both forms of expression to stay balanced. Currently Rain is writing a screenplay for a long feature with the title Hans im Glück.
---
I am a machine
Pierre Luc Junet / 6m 10s / 2016 / Canada /
A Jewish textile worker in Montreal rediscovers the past of her community and the struggles of the Jewish working class.
Poem: In the Factory
Poet: Morris Rosenfeld
---
PLEASE LISTEN!
Natalia Alfutova / 3m 33s / 2014 / Russia / Scottish Premiere
The Dummy and its mirror-reflection are in the waiting room of God. They mimic the Human-talk and the God dancing.
Poem: Listen!
Poet: Vladimir Majakowski
Biography/Filmography:
Natalia Alfutova was born in 1982, Moscow, Russia.
1999 – 2004 Mechanical-Mathematics faculty of the Lomonosov Moscow State University
2010 – 2012 'Higher Director's Courses' Moscow
2008 – New Land 120 min 35mm (dir.S.Melnik)
2009 – Moskva.ru 80 min DVD (dir.A.Komarov)
2012 – I'm going to change my name (dir. M.Saakyan)
Director's Unit
2010 – I'm going to change my name a.k.a Alaverdi (dir.M.Saakyan)
Director
2013 – Quite Blood short film
2014 – Please Listen! short film
– Poetry Moves dance-poetry performance for the Garage Museum of Contemporary Art (Moscow)
---
Refugee Blues
Stephan Bookas, Tristan Daws / 6m 11s / 2016 / England, France / Scottish Premiere
Set to the verses of W.H. Auden's 1939 poem, the film charts an intimate day in 'the jungle' of the refugee camp outside Calais, which contradicts the mainstream portrayal of the camp as a center of violence.
Poem: Refugee Blues
Poet: Wystan Hugh Auden
Biography/Filmography:
Stephan Bookas is a German/American, London based filmmaker, producer and cinematographer. He has shot and directed award winning documentaries and short fiction films across much of the globe including India, Siberia, Turkey, Ukraine, Poland, Slovakia, Germany, Italy, Mexico, Cuba, China and North Korea and is currently in postproduction for his first feature-length documentary and in preproduction for multiple international fiction, animation and documentary projects.
Tristan Daws is a London-based, documentary filmmaker. His work has often focused on the marginalised in society, particularly in the field of mental health. He has been commissioned to direct several international documentary productions, and is currently in post-production on his first feature documentary, about the relationship between a young man and his schizophrenic father.
---
Steel and Air
Nick Libbey, Chris Libbey / 3m 32s / 2015 / United States / Scottish Premiere
Steel and Air. Space and time. In the heart of Minneapolis, there is an iconic blue and yellow bridge. Beyond its physical utility, it offers a perspective to its crossers. A perspective of the interstate traffic, of the city, and of the viewer itself.
Poem: Steel and Air
Poet: John Ashbery
---
Hail the Bodhisattva of Collected Junk
Ye Mimi / 6m 15s / 2015 / Taiwan / Scottish Premiere
Local junk vendors yell the phrase "Sell them to me" repeatedly as they walk from neighbourhood to neighbourhood looking for unwanted household items, typically scrap metal, tools and electronics.
Poem: Hail the Bodhisattva of Collected Junk
Poet: Yin Ni
Biography/Filmography:
Ye Mimi is a Taiwanese poet and filmmaker. A graduate of the MFA Creative Writing Department at Dong Hwa University and the MFA Film Department at School of the Art Institute of Chicago, she is the author of three volumes of poetry and has internationally exhibited several of her poetry films. Through collaging her words and images, she improvises a new landscape trying to erase the border between poetry and image making. Most recently, a bilingual chapbook of her poems was published by Anomalous Press under the title His Days Go by the Way Her Years.
---
---
http://www.zebrapoetryfilm.org/2018/