Tickets: £5
HERITAGE HUB – HEART OF HAWICK
THURSDAY 3 MAY 11:25am – 12:20pm
FRIDAY 4 MAY 3:35pm – 4:30pm
SATURDAY 5 MAY 2:10pm – 3:05pm
SUNDAY 6 MAY 11:00am – 11:55am
*These tickets give access to Heritage Hub screenings all day. Tickets for any Auditorium screening on the same day will also give you access to Heritage Hub screenings.
Tickets are also available through the Heart of Hawick Box Office: 01450 360 688 (Int'l +44 1450 360 688)
Speculations explores city space as a philosophical and virtual abstraction, dislocating the viewer through passing encounters with its inhabitants, whose voices appear to be ultimately consumed by architecture. In Terrain Vague, the once vibrant life of a Hawick mill is brought into relief by industrial dereliction. Fishing is not done on Tuesdays explores landscape patterns and human formations, constructing a fabricated and studied experience of landscape through distance and movement. Urban space is dislocated by mysterious despatches across the eight lane highway of Towing Dispatch, while Palmerston Blvd. takes us into a penetrating engagement with domestic space, where time, memory and human experience become deeply felt.
Speculations
Ben Balcom / 17m 30s / 2016 / United States / UK Premiere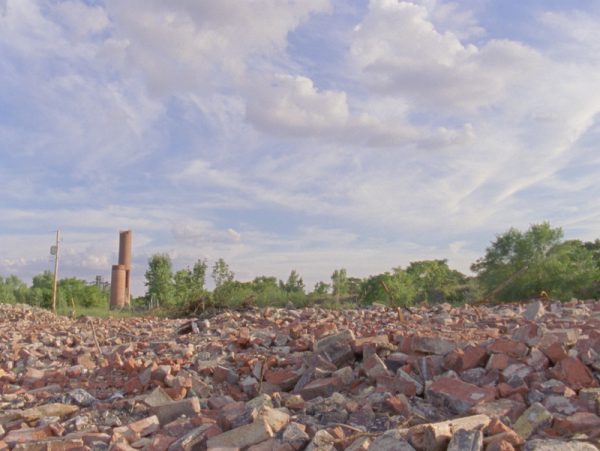 An affective portrait of place. An exploration of the city as abstraction.
---
Terrain Vague
Flora Litchfield / 1m 35s / 2017 / Scotland / World Premiere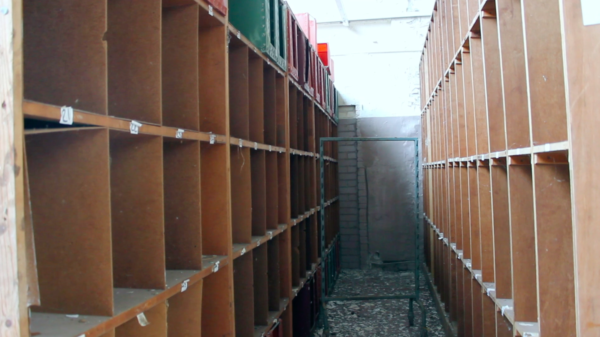 Terrain Vague is the documentation of a live sound work in the Scottish Borders. Showing how sound can re-energise derelict, non-spaces bringing them back to life. The film shows an abandoned cashmere factory in Hawick and the live recordings from a working mill in the same town.
Litchfield uses sound to create a contrast between the buildings past productive activity and its present abandonment, She visited a working mill, and had a guided tour to collect the sound recordings of the looms and the working environment. Playing the rhythmical, repetitive machine sound back into the abandoned factory blurrs boundaries of time and evokes something that has been lost.
Biography/Filmography
Flora Litchfield is a Fine Art Student studying in Oxford. Having grown up in Hawick, Scottish Borders she has been greatly influenced by the demise of the cashmere and woollen industry, and the influence it has had on the town and community.
---
Fishing is not done on Tuesdays
Lukas Marxt / Marcel Odenbach / 16m / 2017 / Germany / UK Premiere
Landscape is a question of distance. Patterns and formations become recognisable from a distance revealing the landscape as a fabrication, a result of natural and historical movements. Fishing is not done on Tuesdays takes variously distanced, moving and focused looks at a location on the coast of Ghana. The first building block of a grid that threads its way through the entire film is indicated by a rotating bird´s eye view of a densely woven canopy of trees intersected by an uneven wall. The vertigo of this circular motion shifts into a gradual glide along untreated cement pylons. Their verticality intersects with the horizon line visible in the distance, to be ruptured only by the turbulence of approaching waves. Constructed lines produce visual axes and visual slits, dividing and lending rhythm to an apparently wild growth of abundant vegetation. These lines and grids do not divide the interior and exterior but rather create openings and passageways. Over and over again views are seen that refute these clear geometries, vibrating and unstable, brought near by binoculars but at the same time strangely far removed. Fisherman on their boats, at prayer before the workday begins; two boys with toy guns in search of an invisible adversary. Smoke condenses; silhouettes become blurred. Are these everyday scenes or the distant echoes of disturbing memories?
There is no fishing on Tuesdays. Loudspeaker systems are the domain of Christian agitators on Sundays. The everyday rhythms of this place are overlaid with the drumming of rotors, the swelling and waning of music and the ocean. Their intersection is marked by this house on stilts, this perch from which an interior grid merges with the exterior as landscape.
---
Towing Dispatch
Neil Young / 4m 42s / 2017 / United Kingdom / World Premiere
Eight lanes of busy downtown traffic are seen, the humdrum world of towing dispatchers is heard. Dislocations in urban space.
Biography/Filmography
Neil Young (Easington 1971) works as a film-critic (Sight & Sound, Hollywood Reporter, etc) and film-festival consultant/programmer (Viennale, etc). His short film Vilniu Detroit premiered at the Vilnius International Film Festival in March 2017.
---
Palmerston Blvd.
Dan Browne / 14m 10s / 2017 / Canada / UK Premiere
In Palmerston Blvd., Dan Browne invites the audience into the intimate space of his living room in this portrait of a bay window recorded over the course of a year. Gradual shifts in the interior and exterior environments mark the passing of the seasons, a slow dance of objects and light juxtaposed by the rapid speeds of bodies and the urban landscape, revealing the processes inherent in all things.
Biography/Filmography
Dan Browne is a filmmaker, photographer and multimedia artist whose works explore patterns and nature through dense and kinetic forms. His films and videos have been presented at over one hundred festivals and venues, and have received several awards. He lives and works in Toronto.
---