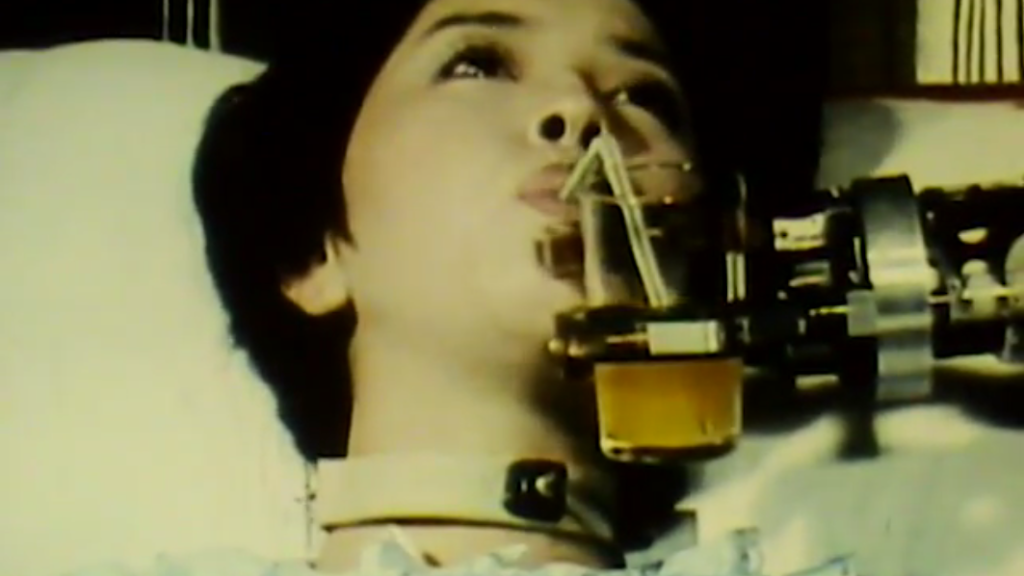 Tickets: £5
HERITAGE HUB – HEART OF HAWICK
THURSDAY 3 MAY 2:10pm – 2:50pm
FRIDAY 4 MAY 11:30am – 12:10pm
SATURDAY 5 MAY 1:05pm – 1:45pm
SUNDAY 6 MAY 10:00am – 10:40am
*These tickets give access to Heritage Hub screenings all day. Tickets for any Auditorium screening on the same day will also give you access to Heritage Hub screenings.
Tickets are also available through the Heart of Hawick Box Office: 01450 360 688 (Int'l +44 1450 360 688)
Secret signals stir from the colourful static in this collection, transporting us to trancelike states and higher consciousness. The stuttering parade of patterns in Dot Matrix could conceal any number of hidden codes, while whispers of technological threat lie behind the vivid re-appropriated archive images of Sky Room. Fearful interactions between the living and the electrical similarly underpin the powerful In Glass Houses and the enigmatic The Forest is Offended is just as unsettling, as a forest begins to speak to us in a strange, semi-human voice. Psychedelic, swirling patterns hypnotises us into submission in Hynagogia, an intensity matched by the flickering repetitions of the similarly mesmeric Wishful Thinking and the glitchy video of Towards the Experimental Control of Dreaming.
Dot Matrix
Lauren Cook / 3m 34s / 2017 / United States / Scottish Premiere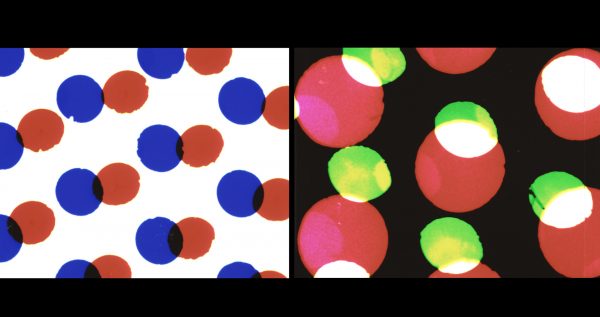 Dot Matrix is a sound and image composition of two 16mm film tracks, made by hand in a darkroom, without any digital intervention. The projectors become instruments that read the images as waveforms. Colorful and fun circles are menacing when played back as sound.
Biography/Filmography
Lauren Cook is an Associate Professor of Filmmaking at University of Hartford
Past screenings include: Images Festival Toronto, Margaret Meade Film Festival at the American Museum of Natural History, Ann Arbor Film Festival, Des Moines Art Center, Sao Paulo Museum of Image and Sound, Black Maria Film Festival, PDX, VideoEx Switzerland, Festival Des Cinemas Differents De Paris, Brighton Film Festival (UK), and the Emerging Filmmakers Showcase at the Cannes Film Festival.
---
In Glass Houses
Ariana Gerstein / 7m 30s / 2017 / United States / World Premiere
An interview is conducted exploring methods used to facilitate a real research project whose aim it is to capture and analyze human micro-expressions for use by a variety of industries. But the particular research or the use of human subjects is really just a point of departure. This film takes a moment to touch on our use of technology and vice versa. The images in the film are created in three ways; 1. by scanning the actor and two other support figures interacting with the scanner glass and each other, one frame at a time 2. By filming the actor revealed by the light of the scanner as he is being scanned. (Each light pass represents a frame of the reanimated scanner image) 3. through line drawings and smears which trace or mark points of contact between the actor and the scanner glass.
https://www.arianagerstein.com
---
Hypnagogia
Pierre-Luc Vaillancourt / 5m 40s / 2017 / Canada, United States / European Premiere
Marked by an intense hypnotic dimension, HYPNAGOGIA amplifies geophysical forces and propels telluric powers. The experience is an ontological fire, a cerebral blast of volcanic sensuality.
Biography/Filmography
Filmmaker with a powerful striking force, Pierre-Luc Vaillancourt explores the ancestral ruins at the borders of known worlds. His most recent films, including Ruins Rider (2017), originated from a process of experimental archeology. Vaillancourt maintains strong creative collaborations with composers Marc Hurtado (Étant Donnés) and Jon Claude Bieschke (Limbs Wandered Alone). His films have been presented at the Zagreb Museum of Contemporary Art, Russian National Center for Contemporary Arts, Fylkingen, Lausanne Underground Film Festival, Bunkier Sztuki, Wro Art Center and in many international festivals, museums and cinematheques.
https://vimeo.com/vaillancourtpl
---
Sky Room
Marianna Milhorat / 5m 55s / 2017 / United States / UK Premiere
Someone is missing. Plants grow, but at what cost? Technology threatens and seduces as humans attempt to solve a mystery through telepathy and mirrors. Stainless steel and broken glass strewn about an intergalactic discotheque.
Commissioned by the Chicago Film Archives and made in collaboration with sound artist Brian Kirkbride, with footage and sound from the archive chopped, manipulated and arpeggiated into a fertile mix of anthem and narrative.
Biography/Filmography
Marianna Milhorat is a Chicago-based filmmaker and educator. Working in film and video, she utilises landscape and duration to disrupt and transform notions of space and perspective. Her work has screened internationally at festivals and galleries, including the International Film Festival Rotterdam, the Ann Arbor Film Festival, Videonale, and the Museum of Contemporary Art, Chicago. Her work has received awards at festivals including the Images Festival, EXIS (Ex-Now), and the Chicago Underground Film Festival.
---
Wishful Thinking
Allan Brown / 13m 20s / 2017 / Canada / World Premiere
Trotters come round the bend with Immanuel Velikovsky as race caller.
"…the audio interference that he whips up and cycles has the effect of sounding like a brewing storm. The stuttering images of horse-drawn chariots again evoke a coming apocalypse. Is Brown wishing for the end of the world, or for aesthetic gale winds that can bring order to chaos?" Greg de Cuir film curator/programmer
Biography/Filmography
Allan was born in Shawinigan, Canada. His films have won awards in such festivals as the Semana de cine experimental de Madrid, Fesancor Santiago, Chile, Stuttgart Filmwinter, Alternative Film Video Festival Belgrade, Bearded Child Film Festival, and flEXiff Sydney, Australia as well as screening in dozens of festivals worldwide including IFF Rotterdam, VideoEx, Kurzfilm Hamburg and Curtas Vilo do Conde. He most recently had a survey retrospective as part of the Kinesthesia screening series at Dom Omladine in Belgrade, Serbia (2017) as well as the Montreal Underground Film Festival (2017). He was a member of the Volatile Works media arts collective who had retrospectives in New York City (2007), a spotlight screening at the Fantasia Film Festival Montreal (2007) and a soirée carte-blanche at the Cinémathèque Québécoise.
FILMOGRAPHY
Wishful Thinking (2017, 13m 30s), Re-mesmerizing from Ormstown to parc Lafontaine (2016, 5m 25s), Expo, my dirty attic (2016, 8m 02s), Silver (2016, 60m 50s), Mist (2015, 4m 46s), Mauricium (2015, 4m 30s), Seventh Submarine (2014, 5m 23s), The Smell of Oil and Cheap Perfume (2013, 10m 00s, Super8), Square Dance Hypnotist (2011, 17m 10s, found footage), Derby Jam (2012, Super8, 3m), Kinetosis (2011, 9min 20sec, found footage), The Ephemeral Village (2011, 8min 10 sec, Super 8), St. SputNik (2011, 1m 30s, found footage), The Jacuzzi Incident (2010, 4 min, 16mm), Breakfast in Leningrad (2009, 5 min, 16mm), Filth, ou comment j'ai vu le jour (2008, 9 min, found footage, collective project), The Millard Symphony (2007, 15min, 16mm, Super-8, found footage), Uncle Cluck (2007, 5min, 16mm), Kuleshov's Paradox (2006, 10min, found footage), Donkey Harvest (2005, 11min, Super8), Kuleshov's Cabinet (2005, 5min, found footage), Volatile Works Does Coney Island (2005, 11min, collective project), House (2004, 3min, found footage), Pig Runner (2004, 2min, found footage), The Invisible Voice of IMU (2004, 3min, miniDV and found footage), Searching for Saddam (2004, 12min, miniDV), Critical Mass (1993, 6min, video), Painting (co-directed) (1992, 16min, 16mm), La gib'lotte (1990, 30min, 16mm)
---
Towards the Experimental Control of Dreaming
Ryan Betschart / 2m 5s / 2017 / United States / European Premiere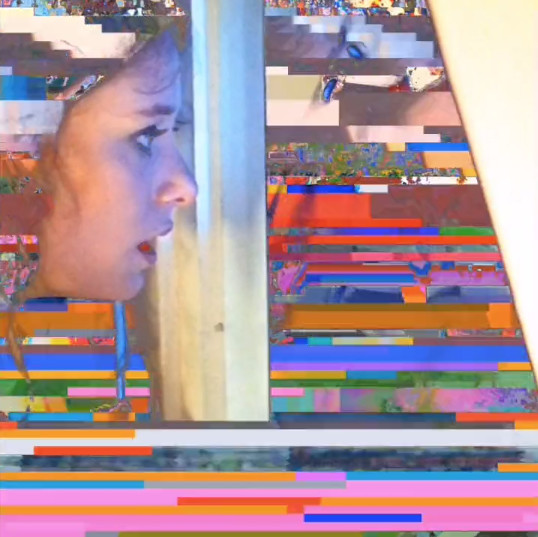 A visual prose poem on a missed encounter during a brief period of altered states of consciousness.
The "Monroe Techniques" of outer body travel can be found in Robert Monroe's 1971 book Journeys out of the Body, or summarized in D Scott Rogo's Leaving The Body (1986)
The title "Towards the Experimental Control of Dreaming" is taken from a chapter in a book of essays collected by Professor Charles T. Tart called Altered States of Consciousness (1961)
The footage glitched from Dario Argento's Susperia (1977)
Biography/Filmography
Ryan is CEO of the non-profit charity San Diego Underground Arts, which oversees the San Diego Underground Film Festival where Ryan has served as Co-Director and Programming Director since its inception in 2015.
Ryan holds a BA in Visual Arts from UC San Diego, and an MFA in Film/Video from CalArts. Currently, Ryan programs for Slamdance Film Festival and has served on the screening committee for Chicago Underground Film Festival.
As a film maker Ryan's films have screened at various festivals and art galleries all over the world, including Ann Arbor Film Festival, Edinburgh International Film Festival, Chicago Underground Film Festival, Slamdance Film Festival, Alchemy Film and Image Festival, Antimatter Media Art, New Orleans Film Festival, Indie Memphis Film Festival, Mammoth Lakes Film Festival, Oxford Film Festival, Winnipeg Underground Film Festival, Sydney Underground Film Festival, among many others.
In 2016 Ryan's film Cup of Stars won a Jury Mention at Slamdance in Park CIty, UT, a Jury Prize for his film Pudding at Indie Memphis Film Festival in Memphis TN, and the Directors Award for his feature film Before She Leaves Her Body at the Arizona Underground Film Festival, in Tucson AZ.
Ryan currently works at both the Hammer Museum and the Getty Museum in Los Angeles California, spending weekends in San Diego with the love of his life Rachel, and his favorite pooch Toby. He often works on his films in some capacity with his nut-ball brother, Tyler.
---
The Forest is Offended
Stephanie Barber / 2m 15s / 2017 / United States / World Premiere
This is a short 16mm film poem thinking about the physics of sound, the need sound has to vibrate and bounce off a molecule or atom to return to our ears; it is thinking about this physical property as a metaphor for spirituality or love. This film was shot on expired film from 1970 whose own molecules needed to be called back. To us.
http://www.stephaniebarber.com
---