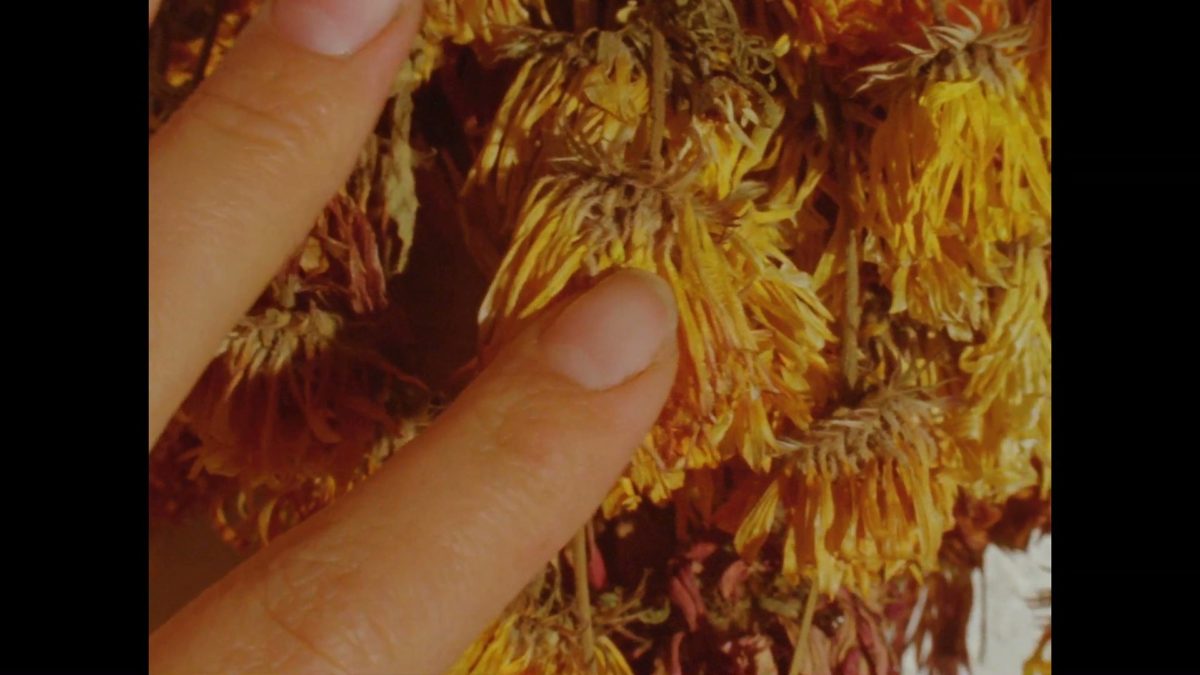 Tickets: £5
HERITAGE HUB – HEART OF HAWICK
THURSDAY 3 MAY 10:00am – 11:00am, 3:20pm – 4:20pm
FRIDAY 4 MAY 12:40pm – 1:40pm
SATURDAY 5 MAY 11:40am – 12:40pm
SUNDAY 6 MAY 3:35pm – 4:35pm
*These tickets give access to Heritage Hub screenings all day. Tickets for any Auditorium screening on the same day will also give you access to Heritage Hub screenings.
Tickets are also available through the Heart of Hawick Box Office: 01450 360 688 (Int'l +44 1450 360 688)
Fragments of lives and relationships drift to the surface in this quietly affecting selection. In A River Twice, a boat's gentle journey along a river mirrors a father's meandering reflections on his daughter and the passing of time. For Foreign Quarters this perspective is reversed, as the filmmaker investigates his mother's lost Chinese heritage through a subtle and captivating ethnographic study. In Laura, scraps and traces are reassembled to piece together the life of a woman, real or imagined, and the nostalgic pull of photographs is similarly central to the emotional and tender Here I Breathe. The strange beauty of shared experience emerges to the fore once more in Zombie, Pt 1, an unusual and cathartic 8mm film about hustling and humanity. Images of the natural world, another kind of life, permeate the analogue experiments of See Weeds and the lyrical landscapes of The Invisible Ax.
A River Twice
Audrey Lam / 14m 30s / 2017 / Australia / UK Premiere
A boat making its way along a river mirrors a father's gentle turns of thought about his daughter and the passing years. I used to watch Hong Kong gangster movies with my dad when I was a kid. Years later, I had fun imagining – and maybe exaggerating – that my limping, half-blind dad could be a sort of Takeshi Kitano, the heroically disfigured and burdened gangster/samurai. That silliness made me think about the stories and times parents share with their children, together and apart, over the years.
Biography/Filmography
Audrey Lam was born in Hong Kong and lives in Melbourne. She studied film and photography at Queensland College of Art. Her films have screened at film festivals including BFI London Film Festival, International Film Festival Rotterdam, Internationale Kurzfilmtage Oberhausen and Melbourne International Film Festival. She is an alumnus of Filmmakers Academy at Festival del Film Locarno, Future Encounters at Encounters Short Film and Animation Festival, and Accelerator at Melbourne International Film Festival. In 2015 she undertook an Asialink arts residency at Green Papaya Art Projects in Manila.
---
The Invisible Ax
Anna Kipervaser / 4m 45s / 2017 / United States / European Premiere
He knew that the woods are full of forest demons who graze deer and hares like cattle, that the Chuhaistyr – who rends wood nymphs from limb to limb – roams about, inviting passers-by to join him in dance, and that the sound of the ax lives in the forest. He also knew about the Rusalky who emerge from the rivers on clear days to sing songs, to invent tales and prayers, and about the drowned men who dry their pale bodies on river boulders after sunset.
Biography/Filmography
Anna Kipervaser (1982) is a Ukrainian-born multimedia artist who currently lives and works in Durham, North Carolina. Her work spans multiple disciplines including experimental and documentary moving image works in both 16mm film and video. Her work has screened at festivals, in classrooms, galleries, microcinemas, basements, and school houses! Anna has received a number of awards for her moving image work and was most recently an artist-in-residence at LIFT in Toronto where she completed a new 16mm film. Anna is also a painter, printmaker, curator of exhibitions and programmer of screenings.
---
FOREIGN QUARTERS
Rajee Samarasinghe / 14m 41s / 2017 / China / European Premiere
My mother's lost Chinese heritage was a point of departure in this film which investigates the process by which an image is constructed in places foreign from that of my own. The condition of distance genetic to the ethnographic image traces the elusive qualities of her past and persona.
Biography/Filmography
Rajee Samarasinghe (Colombo, Sri Lanka 1988) is a Sri Lankan visual artist. Some of his recent work examines contemporary ethnographic practices through associations of family and heritage. He received his BFA from the University of California San Diego and his MFA from the California Institute of the Arts.
Rajee's work has been exhibited at venues internationally including the Internationale Kurzfilmtage Oberhausen, FIDMarseille – Festival international de cinéma de Marseille, San Francisco International Film Festival, Ann Arbor Film Festival, Les Rencontres Internationales Paris/Berlin, CROSSROADS/SFMOMA, Media City Film Festival, Onion City Experimental Film and Video Festival, Antimatter [Media Art], Athens International Film + Video Festival, Chicago Underground Film Festival, Internationales Kurzfilm Festival Hamburg, REDCAT, l'Alternativa – Barcelona Independent Film Festival, L'Âge d'Or film festival, Havana Film Festival, Milwaukee Underground Film Festival, Los Angeles Asian Pacific Film Festival, and San Diego Asian Film Festival among others.
He's received the "Film House Award" at the Athens International Film + Video Festival, the "Vimeo – Audience Award" at the CROSSROADS Film Festival, and a "Jury Award" at the Sydney Underground Film Festival.
---
Here I Breathe
Linda Fenstermaker / 7m 40s / 2017 / United States / World Premiere
Here I Breathe is a tender exploration of memory and the passing of time. Through the use of landscape imagery and found photos, the film focuses on the embodiment of nostalgia in youth and old age. Issues of domesticity and interdependence trail throughout the narrative of a woman looking back on her life.
---
Laura
Tânia Dinis / 10m 30s / 2017 / Portugal / UK Premiere
Laura is an essay film whose inception began from a project of research and collection of familial photographic archives. It departs from the exploration of the notion of images as bygone experiences in time which, from that timelessness, expand in space, thus creating small narrative moments.
http://taniasofiadinis.wixsite.com/tania
---
See Weeds
Dawn George / 3m 18s / 2017 / Canada / UK Premiere
An examination of three weeds – dandelion, coltsfoot, and goldenrod and each weed's direct effects on film stock, via hand-processing with eco-processing techniques. The three weeds were first shot on Super 8mm film and hand processed in caffenol. Each roll of film was then transferred, via optical printer, to 16mm stock and then hand-developed in its own respective "weedol." Each roll of 16mm film was then stained with either a dandelion, coltsfoot, or a goldenrod "tea." The results not only reveal the visual characteristic of each plant but also the filmic qualities that each plant imparts on the film stock.
Biography/Filmography
Dawn George is an award winning Canadian based independent media artist working in film, video and installation. She is a graduate of Ryerson's Radio and Television Arts Program and received her film and media arts training through the Atlantic Filmmakers Cooperative (Afcoop) and the Centre for Art Tapes. She remains a strong advocate for artist run centres and cooperatives. Her DIY approach to filmmaking reflects her appreciation and respect for movement, nature, and sound. She often uses the recorded moving image in combination with time-based and CGI effects to explore environmental and societal themes. The soundscapes to her films are primarily created by recording and modifying sounds found in nature and her kitchen. She recently received the Jury Award for Creative Achievement at the 2017 Arizona International Film Festival. Her works have screened at WNDX, Antimatter [media art], FLEX Fest, the International Motion Festival, and the Dalhousie Art Gallery.
---
Zombie, Pt. 1
Scott Fitzpatrick / 3m 45s / 2017 / Canada / UK Premiere
"He wrote that Leonard and Robert La Tourneaux actually had a relationship… I didn't know that." A super 8mm film about hustling. Words by Will Brown; for Will Brown.
Biography/Filmography
Scott Fitzpatrick is a visual artist (Libra) from YWG, whose film and video work has screened at underground festivals and marginalized venues worldwide. He obtained his bachelor's degree in Film Studies at the University of Manitoba, and began conducting lo-fi moving image experiments in 2010. Primarily a filmmaker, also invested in photography, re-photography, kaleidoscope and collage. In addition to producing his own work, Fitzpatrick presents the work of others through the Winnipeg Underground Film Festival and Open City Cinema.
---