FILM WALK TO FATLIPS CASTLE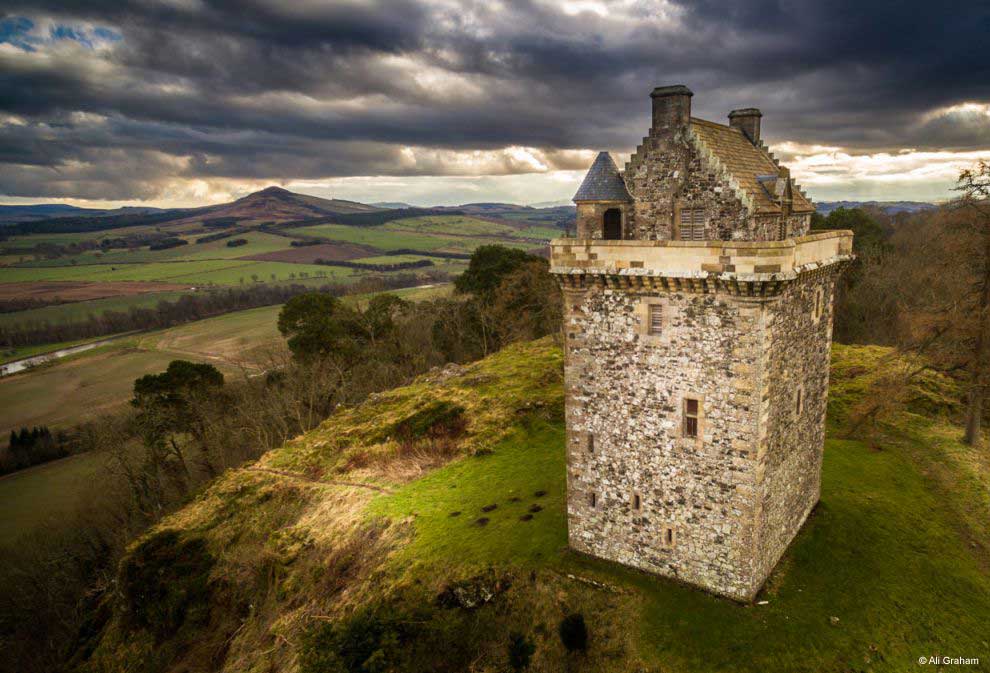 MONDAY 7 MAY
11:00am – 4.30pm
Tickets: £10
DEAPARTING: COMMON HAUGH CAR PARK, HAWICK
Join us for a trip to walk up Minto Crags to the historic 16th Century Fatlips Castle, where there will be a special 16mm screening of Stan Brakhage's The Text of Light, introduced by Alchemy's Creative Director, Dr Richard Ashrowan.
Fatlips Castle was once home to the notorious Border reiver family, the Turnbulls of Barnhill. Following the Turnbulls, the tower was owned by Sir Gilbert Elliot who's descendants became Earls of Minto and own the property to this day. Perched atop Minto Crags, this commanding traditional fortified pele tower was recently restored. There are stunning views out over Teviotdale, Denholm and Bedrule, as far as the extinct volcano Rubers Law.
On arrival, the castle will provide an unusual setting for a pop-up 16mm screening of Stan Brakhage's The Text of Light (67m, 1974). A key work from a prolific and preeminent American filmmaker, this spare and vital piece is rarely seen and only available on 16mm film. We hope the spectacular setting will add a new layer of significance to a film which takes luminosity as its singular focus and most basic mode of expression. Light, the foundation of all art, the source of all image, is here examined in all its mystery, motility and transience.
FILM WALK – IMPORTANT INFORMATION
There will be a bus from Common Haugh Car Park (Hawick) to the start of the walk. Return travel will be provided, arriving back in Hawick at approx. 4:30pm.
Your ticket includes return bus travel, the walk itself, screening and return to Hawick.
Please assemble promptly at the Common Haugh Car park at 11.00am for the bus to the start of the walk. The bus back to Hawick will leave from the road below Fatlips (Grid Ref NT 585 207) at 4pm, arriving back at Hawick at approx. 4:30pm.
Important Information
– All participants are responsible for bringing bottled water and their own packed lunch.
– The walk will go ahead whatever the weather. Participants are advised to dress accordingly and wear appropriate footwear for a 2 mile walk, which is at times muddy, wet and slippery.
– The walk will take place predominately on footpaths, and there is a steep hill to climb to reach the castle.
– Fatlips Castle has no toilet facilities or running water.
– You are welcome to bring cameras to film on the walk, at the castle, and the surrounding woodland.