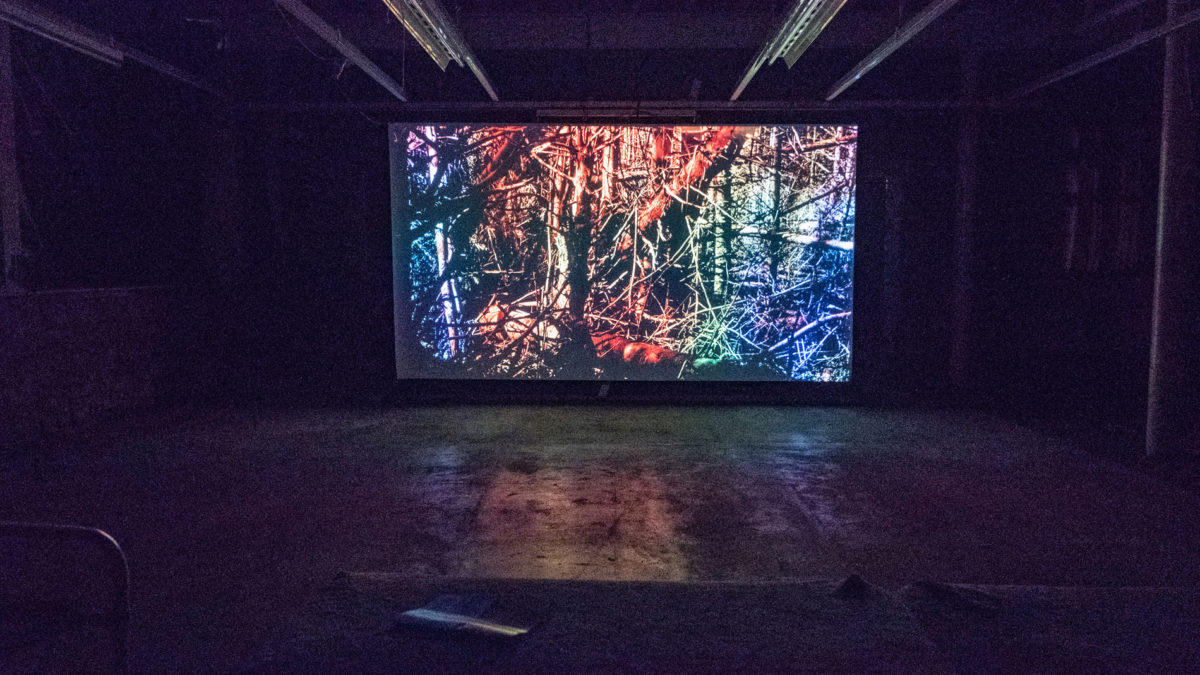 THURSDAY 3 MAY
7:00pm – 8:30pm
Tickets: Free, un-ticketed event.
VARIOUS VENUES IN HAWICK, Starting at HEART OF HAWICK CAFÉ, ending at PETER SCOTT
Join us on a guided tour of our moving image installations around the town of Hawick, our participating artists will be on hand to introduce each one. Starting from the Heart of Hawick Café, the tour will end with a reception at the Peter Scott factory.
In the Peter Scott factory, two pieces offer deeply atmospheric reflections on human interaction with the environment. Steven Ball's experimental documentary Public Water considers the status of water in the urban space to mesmerising effect, while Julie Brook returns to the festival with Firestack, part of a series of work which follows the progress of her striking tidal interventions through different climactic seasons.
The dark power of Katharine Fry's Tablemouth, a dry and witty take comment on domesticity, containment and the female body, is heightened by a claustrophobic basement setting in the A7 Art Space. At Unit 4, Era Vati's exquisitely composed film portraits, Remembering & Playback, reflect upon fading memory, self-image and the passage of time. In the womblike Yeomans' back room, Toby Tatum's Lost Gardens & The Signal create a portal into another world with subtle undulations of light and sound.
Over at the Crown Buildings, writer and filmmaker Dorothy Alexander combines video and paper sculpture to typically haunting effect in We sewed them into the hems of our skirts and walked through the town to the sea where we threw them into the oncoming tide. Izabella Pruska-Oldenhoff's Relics of Lumen links the displacement of people with celestial passages through space in intricate, involving detail. In Jacques Perconte's Twenty Nine Minutes at Sea a peaceful image transforms into a blood-red scene, deep unrest simmering beneath soothing waves.
Elsewhere, our continuing commitment to professional development can be seen at Hawick Library, where three young artists who invigilated our 2017 Scotland + Venice exhibition have been invited to develop a new collaborative exhibition for this year's festival. Our Alchemy Headquarters play host to Fr@gile, an exploration of analogue and digital communication from our Young Alchemy Moving Image Makers, while over at Yeomans, local artist Narda Azaria Dalgleish presents A Contemplation on Longing, a new feature length piece developed at last year's Morocco Residency.
Also part of our installations programme this year is Ley Lines, a new exhibition at Hawick Museum from Sydney based artist Kate Scardifield which uses social and historical gems from museums and archive to reframe Scottish and Australian connections.
This year we are hosting 12 installations around the town in disused spaces, galleries and empty rooms kindly offered by local businesses. Entry is free. All of the installations are open 11:00am – 6:00pm Thursday 3 May – Sunday 6 May.