SATURDAY 4 MARCH
10.00am – 11.15am
Tickets: £5
MAIN AUDITORIUM, HEART OF HAWICK – TOWER MILL
In Josh Weissbach's 38 River Road, a family trauma emerges through layered and distorted interior and exterior environs. A window is the threshold between the mutability of the seasons and the seeming stability of home life in Lin Li's affecting Appearance, while the notion of shelter is explored through abstractions of form in Daphne Rosenthal's Imitation. Revelations of representation within interior space are thoughtfully explored in both Pieter Geenan's Home and Dana Burman-Duff's Catalogue Vol. 6 – where off-screen voices appear to haunt a conservative domestic space, and in Ben Balcolm's Our Own Private Universe, the slippage between words and meaning reveals the playful and sinister clichés of dialogue within a 1950's aesthetic.
38 River Road
Josh Weissbach / 00:07:14 / 2016 / United States / Scottish Premiere
The voice of a figureless character is heard. The figure of a voiceless character is seen. A sequence of estranged voicemails is framed by unidentified events. Fear resides in the gesture of a telling.
Note: This film was produced in the United States and Switzerland.
Josh Weissbach will be present for a Q&A
Biography/Filmography:
Josh Weissbach is an American experimental filmmaker. He lives in a house next to an abandoned village in Moodus, Connecticut with his wife, two daughters, and two cats.
His cinematic practice focuses on the relationship between the intimate and the uncanny within domestic spaces. Central to this process is an investigation of the visual agency of the (un)built form and the manner in which it implicates a history of familial trauma. His practice also considers natural spaces that are defined by the vitality of matter and its transfer of force.
His 16mm films and digital videos have been shown worldwide in such venues as Ann Arbor Film Festival, 25 FPS Festival, Berlin International Directors Lounge, Antimatter Underground Film Festival, and Festival Internacional del Nuevo Cine Latinoamericano. He has won jury prizes at Iowa City International Documentary Film Festival, $100 Film Festival, Onion City Experimental Film and Video Festival, and Haverhill Experimental Film Festival.
He is the recipient of the 2008 Cary Grant Film Award from the Princess Grace Foundation-USA, a 2013 Mary L. Nohl Fellowship for Emerging Artists from the Greater Milwaukee Foundation, and a 2015 LEF Fellowship from the Robert Flaherty Film Seminar.
---
Appearance
Lin Li / 00:08:18 / 2016 / United Kingdom / World Premiere
Looking out, listening in, while time passes almost imperceptibly within the apparent stability of our framed existence.
Lin Li will be present for a Q&A
Biography/Filmography:
Based in Scotland, Lin Li has been using moving image and sound in her creative practice since 2011. Her work covers a wide range of subjects, with recurrent themes such as the ephemeral elements of nature; the idea of peace; and transience. In 2013, she was one of the participants in the Alchemy Film and Moving Image residency in the Scottish Borders. Her works have been shown in the Alchemy Film and Moving Image Festival and many other events in different parts of the world.
---
Catalogue Vol.6
Dana Berman Duff / 00:11:38 / 2016 / USA & Germany / World Premiere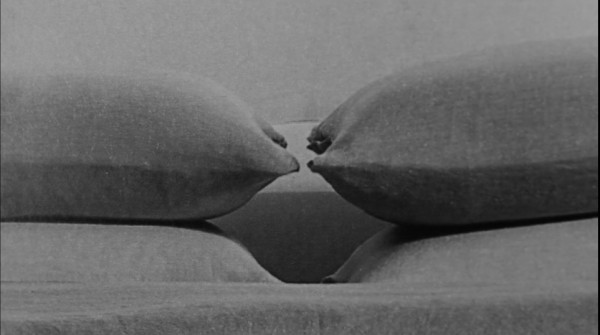 The sixth film in the "Catalogue" series that looks at objects in a catalogue of knock-off home furnishings photographed in staged rooms imitating the style of film noir movies.
Dana Berman Duff will be present for a Q&A
Biography/Filmography:
Dana Berman Duff works in small format film and video have been screened at the Toronto International Film Festival, the International Film Festival Rotterdam, the Biennale de l'Image en Mouvement (Geneva), Edinburgh International Film Festival, South London Gallery, EXiS Festival, Antimatter, Onion City Experimental Film Festival (Chicago), LaborBerlin microcinema (Berlin), Dortmund/Cologne International Women's Film Festival, and others. Duff is a professor at Otis College of Art and Design in Los Angeles.
http://www.danaduff.com/project/4/
---
Imitation
Daphne Rosenthal / 00:07:45 / 2016 / Netherlands / UK Premiere
By focusing on tiny inorganic things a breathing space, a shelter from the demands of life may form itself.
Daphne Rosenthal will be present for a Q&A
Biography/Filmography:
Daphne Rosenthal is a visual artist who lives and works in Amsterdam (BFA Gerrit Rietveld Academie, 2008) and has strong ties with Los Angeles, where she received a MFA from Calarts (2014). She has shown work in galleries, festivals and museums throughout Europe and the US, such as the Tate Modern and the Wende Museum in LA.
Rosenthal builds sets from tiny materials that have outspoken characteristics. They are colourful, tactile, fragile, but strong. When these objects are placed outside of their functional domain, their role is lost and they are fit for a part in one of her films.
---
Home
Pieter Geenen / 00:11:20 / 2016 / Belgium / World Premiere
Using the Belgian Club in Delhi, Canada as a backdrop, the film metaphorically illustrates the concept of communities, the construction of national identity and its potential loss after migration.
Biography/Filmography:
Pieter Geenen (1979) lives and works in Brussels. In his audiovisual work he wishes to translate the ambiguity of the geo-political reality into reflections on the concepts of imperialism, borders, migration, identity, belonging and land.
His work has been presented at the IFF Rotterdam, New York Film Festival, FID Marseille, Les Rencontres Internationales, M-Museum Leuven, La Capella Barcelona, FRAC Basse-Normandie, Médiathèque FMAC Geneva and ARGOS Centre for Art and Media. Together with audiovisual artists and filmmakers Sirah Foighel Brutman, Eitan Efrat and Meggy Rustamova he is a founding member of Messidor, a collective platform for reflection, production and distribution.
---
Our Own Private Universe
Ben Balcom / 00:10:30 / 2016 / United States / UK Premiere
Our language is unreliable. Is meaning adding up or emptying out? Through these possible scenes we simply need these actors to play their parts in order to mask the wilting of a fiction. They talk all at once. What do they say? Which lives do they speak of? To have been is not enough for them. Our dialogue is uncertain. In the meantime, let them converse calmly, since they are incapable of keeping silent.
Biography/Filmography:
Ben Balcom was born in Massachusetts and raised in Illinois. He received his MFA in Film, Video, Animation, and New Genres from the University of Wisconsin-Milwaukee, and his BA in Film-Video Production from Hampshire College. Ben currently teaches film production at UWM and is the technical director for the Milwaukee Film Festival. He is also a co-founder and programmer of Microlights Cinema. Since 2013, Microlights has hosted nearly 30 film and video artists from around the world.
---