SUNDAY 5 MARCH
10.00am – 11.05am
Tickets: £5
MAIN AUDITORIUM, HEART OF HAWICK – TOWER MILL
The programme presents contemporary artists' films on memory, landscape and sunlight. Including work by Emily Richardson, Rosalind Fowler, Theresa Moerman Ib, Simon Aeppli, Robert Macfarlane and Andrew Kötting in conversation. Curated by Owen Davey.
Come Wishes Be Horses
Rebecca Meyers / 00:08:00 / 2016 / United States / European Premiere
Not one of them was capable of lying,
There was not one which knew that it was dying
Or could have with a rhythm or a rhyme
Assumed responsibility for time.
– W.H. Auden "Their Lonely Betters"
Biography/Filmography:
Based in Pennsylvania, Rebecca Meyers teaches at Bucknell University, where she curates a weekly film series, and has programmed films for Chicago's Onion City Festival, the Harvard Film Archive, and ArtsEmerson. Her 16mm films have screened at festivals and museums around the world. She was named one of "25 Filmmakers for the 21st Century" by Film Comment in 2010.
---
Aspect
Emily Richardson / 00:09:00 / 2004 / United Kingdom /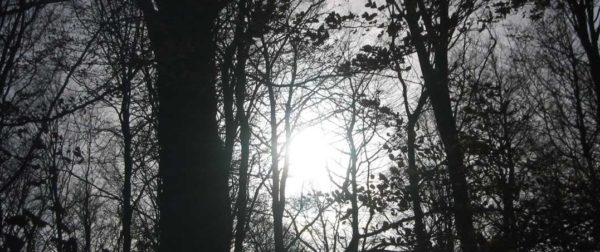 Colour, light and shadow shift across the surface of the forest as the period of a year is condensed into minutes. "Aspect" is filmed in a forest over the period of a year. Using photographic techniques, such as time-lapse and long exposures on single film frames, the forest year is condensed into a few minutes.
Biography/Filmography:
Emily Richardson is a UK based filmmaker who creates film portraits of particular places. Her work focuses on sites in transition and covers an extraordinarily diverse range of landscapes including empty East London streets, forests, North Sea oil fields, post-war tower blocks, empty cinemas and Cold War military facilities. She is currently doing a practice-led PhD on modern architectural space in artists' film and video at the Royal College of Art in London. Richardson's films have been shown in galleries, museums and festivals internationally including Tintype gallery, London; Tate Modern and Tate Britain, London, Pompidou Centre, Paris, Barbican Cinema, London; Anthology Film Archives, New York; Tulca 2012, Ireland; Chisenhale Gallery, London; Firstsite, Colchester; Maison Europeenne de la Photographie, Paris; Botkyrka Konsthall Sweden; The Wapping Project, London; Artprojx Cinema at the Armory Show, New York; FACT Liverpool; Danielle Arnaud, London; Wurttembergischer Kunstverein, Stuttgart; Uppsala Museum, Sweden and Venice, Edinburgh, BFI London, Rotterdam and New York Film Festivals. She was awarded the Gilles Dusein Prize, Paris 2009 in recognition of her films. Her work is distributed by Lux, London and Light Cone, Paris.
---
Holloway
Adam Scovell and Robert MacFarlane / 00:08:30 / 2016 / United Kingdom /
Holloway is an adaptation and response of the Sunday Times best-selling book by Robert Macfarlane, Stanley Donwood and Dan Richards. It uses layers of super-8 film to look at the strange, haunted pathways found on the south Dorset coast and is scored by Richard Skelton.
Biography/Filmography:
Adam Scovell is a writer and filmmaker from The Wirral, now based in London. He is studying for a PhD in film music and transcendental aesthetics at Goldsmiths, funded by the Arts and Humanities Research Council (2014). He has produced film and art criticism for over twenty digital and print publications including The Times, BFI, Caught by the River, The Quietus and the Guardian. He runs the Blog North Awards nominated website, Celluloid Wicker Man, and has had film work screened at FACT, The Everyman Playhouse, Hackney Picturehouse, The British Museum, Oxford University's Romantic Society and Manchester Art Gallery. In 2015, he worked with Robert Macfarlane on an adaptation of his Sunday Times best-seller, Holloway and in 2016 worked again with Macfarlane on a short film about the poet, Edward Thomas. He has since worked on films with creatives such as Stanley Donwood, Iain Sinclair, Richard Skelton, Laura Cannell.
Robert Macfarlane was born in Nottinghamshire in 1976. He is the author of Mountains of the Mind, The Wild Places, The Old Ways and Landmarks. Mountains of the Mind won the Guardian First Book Award and the Somerset Maugham Award and The Wild Places won the Boardman-Tasker Award. Both books have been adapted for television by the BBC. He is a Fellow of Emmanuel College, Cambridge, and writes on environmentalism, literature and travel for publications including the Guardian, the Sunday Times and The New York Times. He is currently working on an illustrated children's book about the natural world in collaboration with illustrator Jackie Morris.
---
Folk In Her Machine
Rosalind Fowler / 00:12:00 / 2013 / United Kingdom /
The film starts and ends in London and is told from the perspective of a female narrator who looks back over the archive of footage she has collected over the years on her repeated visits to two seasonal folk traditions in England, Haxey Hood in north Lincolnshire and May Day in Padstow.
Rosalind Fowler will be present for a Q&A
Biography/Filmography:
Rosalind Fowler is an artist and filmmaker with a background in visual art and anthropology. Her work explores the politics and poetics of place and belonging in the contemporary English landscape through the prisms of folk culture, alternative communities, science fiction, pre-history and dreams. Through quasi-ethnographic forms of enquiry she combines real lived experiences and narratives with performance, fictionalization, writing and the language of the subconscious in her work. Her interests lie in experimenting with the potentialities of documentary and fiction filmmaking to investigate the boundaries between the real and imagined, visible and invisible within culture.
---
Mono No Aware
Theresa Moerman Ib / 00:03:35 / 2013 / United Kingdom / UK Premiere
The film is composed in several layers using the digital rerecording of a slideshow containing family photographs taken in Denmark and Japan during the early 1970s.
Theresa Moerman will be present for a Q&A
Biography/Filmography:
Theresa Moerman Ib is a Glasgow-based artist and filmmaker, born in 1977 in The Netherlands and raised between England, Belgium and Denmark. She holds a bachelor's degree in English and worked for the Danish media before pursuing a career in fine art.
---
The Sun Came Dripping A Bucket Full of Gold
Andrew Kötting / 00:03:20 / 2014 / United Kingdom / Scottish Premiere
At the threshold of the last mystery you have looked into the eyes of your creature self and watched the sun come dripping a bucket full of gold.
Andrew Kötting will be present for a Q&A
Biography/Filmography:
Andrew Kötting was born in Elmstead Woods in 1959. After some early forays into market trading and scrap-metal dealing he travelled to Scandinavia to become a Lumberjack. He returned home in the 80's to study for a BA Honours Degree in Fine Art at Ravensbourne College of Art and Design and then graduated with a Masters Degree from The Slade, University College, London. He currently lives and works between Hastings in England and Fougax-et-Barrineuf in the forests of the French Pyrenees. He is a Professor of Time Based Media the University for the Creative Arts, Canterbury.
---